Kate Middleton reveals Prince Louis is working on his royal wave

Hello!
2018-12-05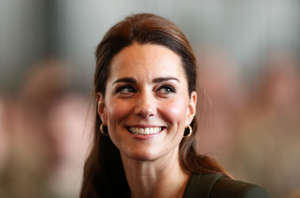 The Duchess of Cambridge  has delighted fans by revealing that her seven-month-old son Prince Louis is already working on his royal wave. 

Kate spoke about her third child while she chatted with wellwishers outside the RAF Akrotiri in Cyprus during their special Christmas visit on Wednesday.
Video: Kate Middleton's best looks of all time (Cosmopolitan UK)
Rhian Davis, 32, who was carrying 10-week-old daughter Dorothy in a sling, chatted to the Duchess about their children.
Rhian said: "She asked whether I was sleeping through the night and she told me that Louis is starting to wave."
© @Copyright HELLO! Hello! Magazine The Duke and Duchess continued to meet families living and working on the camp as darkness fell. And the excitement was all too much for a couple of the children waiting for their royal visitors.
One-year-old Mia Williams frowned at Kate, who laughed and told her: "It's scary meeting new people."
Kate received flowers and a teddy bear and made a beeline for Harrison Brown, eight, who was wearing a jacket covered in dinosaurs, telling him it would go down well with her son, Prince George.
Samantha Sahota, five, told Kate she was upset the Duchess had not worn pink or a crown or arrived in a carriage.
Her grandmother Helen, who has run a jewellery shop on the camp for the past 40 years and met previous royal visitors including the Queen and Princess Anne, said: "Kate promised that next time she would wear a pink dress and a crown."
The mum-of-three looked stunning as she arrived at the RAF base in Cyprus earlier in the day to honour military personnel serving overseas during Christmas.
© Andrew Matthews/PA Wire/PA Images The Duke and Duchess of Cambridge arrive at RAF Akrotiri in Cyprus for a visit to honour military personnel serving overseas during the Christmas period. We loved the her latest look - an olive green blazer by Smythe with wide lapels and statement button detail at the cuffs, a pair of classic black trousers and a simple white T-shirt.
To complete her look she added a smart buckled belt and a pair of olive green suede shoes with a matching L.K.Bennett bag.
Gallery: Royal repeat: How Kate recycles her designer dresses (Photos Services)