Supermodel Lily Aldridge walks Brandon Maxwell's runway show while five months pregnant

The Independent
2018-09-11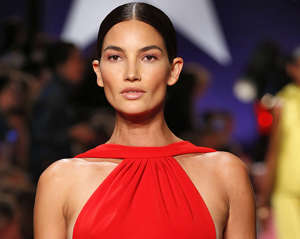 © Photo by Victor VIRGILE/Gamma-Rapho via Getty Images Lily Aldridge walks the runway at the Brandon Maxwell Spring/Summer 2019 fashion show during New York Fashion Week on September 8, 2018 in New York City. In recent years the fashion industry has seen a surge in diversity, showcasing models of all ages, genders, and sizes on the runway.
And, while it's no secret that fashion month still has a long way to go, one designer has taken the concept a step further by adding a pregnant woman into the mix.

This weekend, Brandon Maxwell's spring/summer 2019 show was populated by a throng of characteristically tall and slender models including Gigi Hadid, Joan Smalls, Cindy Bruna and Bella Hadid.
Download the all-new Microsoft News app – available now on iOS and Android
Amongst them, Victoria's Secret Angel Lily Aldridge also made an appearance. However, the supermodel struck a different kind of silhouette with the addition of a baby bump.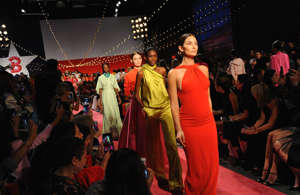 © Photo by Desiree Navarro/WireImage Model Lily Aldridge walks the runway for the Brandon Maxwell fashion show during New York Fashion Week at Classic Car Club on September 8, 2018 in New York City. At five months pregnant, Aldridge stormed the runway wearing a pair of stiletto heels and a figure-hugging red dress that visibly showed off her stomach.
Thrilled at having the chance to take part in the show while pregnant, the model thanked Maxwell on Instagram writing: "So proud to walk the @brandonmaxwell runway 5 months pregnant!
"I've walked few runways in my life and this is a moment that I'll look back on forever with great emotion. Thank you Brandon for letting me shine and being such a true gentleman, Love you forever!!!"
Aldridge finished her post by sending her love to all the other models who were cast in the show, especially those that embraced her baby bump.
"It was so much fun being backstage will all the girls," she added.
"Everyone was so uplifting and rubbing my belly celebrating this beautiful journey with me. Nothing but empowerment at Brandon Maxwell."
Of course, this isn't the first time a pregnant model has appeared on a fashion week runway.
In fact, it isn't even the first time Aldridge has walked a show while expecting.
Watch: Fall Fashion Trends to Watch Out For (Buzz60)
After announcing her first pregnancy in December 2011, savvy fashion fans figured out that the supermodel would have already been two months pregnant when she walked in the Victoria's Secret show a month earlier alongside Alessandra Ambrosio, who was also expecting.
And the trend for embracing motherhood doesn't stop there. Most recently, Saks Potts Spring Summer 2019 show during Copenhagen Fashion Week, featured a glowing pregnant model strutting down the runway.
Similarly, heavily pregnant model and artist Maia Ruth Lee was just one month away from her due date when she featured in Eckhaus Latta's spring/summer 2018 show.
The ever-growing list of expectant mothers-cum-models also includes Jacquetta Wheeler in the autumn/winter 2015 Temperley show, Bianca Balti in the autumn/winter 2015 Dolce & Gabbana show, Jourdan Dunn in the spring/summer 2010 Jean Paul Gaultier show, and supermodel Slick Woods who recently posed for the September cover of Elle UK.
Related: Winnie Harlow: Get to know the new Victoria's Secret Angel better (Photos Services)