The zip code: how the fashion set are replacing buttons with zips

Evening Standard
2019-03-26
Ask a woman what excites her most about her favourite dress and it won't be the cut, the colour or even the fact that it's every bit as comfortable as her favourite pair of PJs: it will be the pockets.
A design feature so necessary that it has spanned 60 years of feminist musings, the pocket (when big enough to carry an iPhone) is more crucial to womankind's dressing armoury than a powerful shoulder line or a flat-soled shoe.
The zip, once the saviour of anoraks and jeans flies, is 2019's addition to this list. Certainly, the automatic continuous clothing closure (thanks, Wikipedia) is making its presence felt like never before, with zippers replacing buttons on every-thing from blouses to dresses to suit jackets.
For designer Demna Gvasalia, artistic director of Balenciaga, the current popularity of the zip is a matter of aesthetics. "I find buttons quite retro, I try to hide them or take them away," he said following his show in Paris earlier this month.
I'm inclined to agree with him. After all, what could be more out of date than a item that demands time be spent fiddling around with it? Without fuss or fanfare, the zip is a low-effort high-impact solution. Of course, the time-pressed people of London want more and more. Designers are responding to their pleas by replacing buttons with zips on trousers and dresses.
The ornamental gain of this development is fairly self-explanatory. In a day and age where an undone approach to fashion is essential, the zip makes perfect sense. It also feeds nicely into our collective demand for style with a sports or streetwear-inspired edge. If the button is considered establishment, the zip is decidedly anti. It's little wonder that designers are revisiting it as a means to engage with a switched-on consumer.
But this is about function as well as form. Just as the right-sized pocket served as a signifier of female empowerment, the zip is a simplifier for modern life. Undoubtedly it's a significant detail in a bigger picture that showcases fashion with utilitarian value.
Gvasalia, whose current collection is punctuated with a new style genre that he describes succinctly as "neo tailoring", is a big believer in the idea that clothing traditions must be modernised to succeed in a contemporary world. For him, a caretaker of the silhouette founded by Cristóbal Balenciaga, this means suits that take their lead from tracksuits, and zipper fastenings which are two fingers up to traditional tailoring practices.
Related slideshow: This week's fashion hits and misses from the A-list (provided by photo services)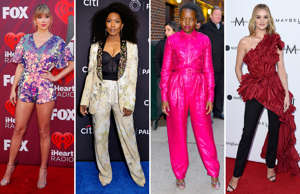 Download the Microsoft News app for your Android or iPhone device and get news & live updates on the go.