9 shares you should have been watching on Monday

The Motley Fool
2017-07-10
Video provided by Seven News
The ASX 200 rose today, courtesy of strength in all four big bank shares and a rising Medibank Private Ltd share price. The Medibank Private share price gained 1.1% for the day.
Here's a quick recap:
* S&P/ASX 200 up 0.4% to 5724 points
* ALL ORDINARIES up 0.3% to 5762 points
* AUD/USD at US 76.07 cents
* Iron Ore at US$62.80 a tonne, according to the Metal Bulletin
* Gold at US$1,209.93 an ounce
* Brent oil at US$46.88 a barrel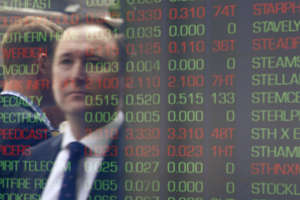 © Daniel Munoz/Getty Images An office worker is reflected on a window of the Australian Securities Exchange building. The Bellamy's Australia Ltd share price remained in a trading halt today, and is expected to resume trading tomorrow. The company announced on Friday that the canning facility that it recently acquired had had its CNCA licence suspended by Chinese regulatory authorities.

The Flight Centre Travel Group Ltd share price continued to rocket higher today, lifting another 3.2%, while QBE Insurance Group Ltd and Metcash Limited rose 2.8% and 2.6%, respectively.
The gold miners produced mixed results today after the gold price fell to less than US$1,210 an ounce. The Northern Star Resources Ltd share price slipped 1.3%, but the Regis Resources Limited share price gained 1.3%.
Elsewhere in the resources space, the BHP Billiton Limited share price slipped 0.3% and the South32 Ltd share price dropped 3.2%.