Biggest Ponzi schemes in history

Photos
2016-02-08
In early February 2016, Chinese authorities said that Ezubao, an online finance company, cheated around 900,000 investors out of more than $7.6 billion. As the investigation into the Ponzi scheme gets underway, we take a look at some of the biggest fraudulent schemes over the years.
All financial figures are in USD.
Ezubao finance firm
© STR/AFP/Getty Images This picture taken on Dec 17, 2015 shows the padlocked door of peer-to-peer lender Ezubao in Hangzhou in China's eastern Zhejiang province. Chinese authorities have arrested 21 people on suspicion of defrauding around 900,000 people of more than 50 billion yuan (7.6 billion USD), state media reported, after an online peer-to-peer lender turned out to be a giant Ponzi scheme. Ezubao offered investors annual returns of between nine percent and 14.6 percent on various projects, the official Xinhua news agency reported -- far more than currently offered by Chinese banks' wealth management products. CHINA OUT AFP PHOTO / AFP / STR (Photo credit should read STR/AFP/Getty Images) Chinese online finance company Ezubao duped investors out of $7.6 billion and buried the evidence, revealed the Hong Kong Police on Feb. 1. The finance firm carried out the fraud by offering an array of fake investment products to around one million investors, promising annual interest payments of up to 15 percent. The police arrested 21 people in Anhui, the eastern Chinese Province, where the company is headquartered.
Set up by the Yucheng Group in July 2014, Ezubao was a peer-to-peer lender, which aimed to match investors with potential borrowers over the internet.
Reportedly, Yucheng chairman Ding Ning has spent $150 million of investors' fund on items and gifts, including real estate, cars and other luxury items. Another $121.6 million (800 million renminbi) was spent on payroll in November 2015. The state-run Xinhua news agency said that the company hid around 1,200 documents and other evidence in 80 bags and buried them 20 feet (6 meters) underground in the outskirts of Hefei, Anhui.
(Pictured) The padlocked door of Ezubao in Hangzhou in China's eastern Zhejiang province, on Dec. 17, 2015.
Martin Shkreli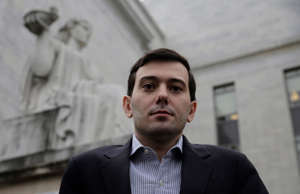 © JOSHUA ROBERTS/REUTERS Martin Shkreli, former CEO of Turing Pharmaceuticals LLC, departs the U.S. Capitol after appearing before a House Oversight and Government Reform hearing on "Developments in the Prescription Drug Market Oversight" on Capitol Hill in Washington February 4, 2016. Shkreli invoked his Fifth Amendment right against self-incrimination and declined to answer questions on Thursday from U.S. lawmakers interested in why the company raised the price of a lifesaving medicine by 5,000 percent. REUTERS/Joshua ... Martin Shkreli, CEO of Turing Pharmaceuticals and KaloBios Pharmaceuticals, came under the media spotlight when he hiked the price of the HIV drug Daraprim by more than 55 times, from $13.50 to $750 per pill. It happened during a time when Shkreli was under criminal investigation on fraud charges. 
On Dec. 17, 2015, FBI arrested him, and indicted him on seven counts, including defrauding hedge fund investors and using funds from his previous biotech company Retrophin for personal use.
Shkreli, along with Retrophin's outside counsel Evan Greebel, allegedly ran the Ponzi scheme from 2009 to 2014.
Kevin Trudeau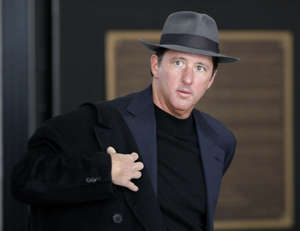 © Chicago Tribune/MCT via Getty Images/Getty Images Kevin Trudeau walks through the Dirksen U.S. Courthouse in Chicago, February 11, 2010. In the decade since regulators first accused him of conning consumers into buying his weight-loss books, TV pitchman Trudeau has been ordered off the air, fined nearly $38 million and threatened several times with jail for contempt of court. (Jose M. Osorio/Chicago Tribune/MCT via Getty Images) American author, entrepreneur and infomercial salesman Kevin Trudeau had had many run-ins with law. While he was fighting Federal Trade Commission charges for making false health and diet claims in his book "The Weight Loss Cure 'They' Don't Want You to Know About," he ran a structured fraud scheme through his Global Information Network, amassing $110 million. 
The network falsely assured quick returns and tips on how to become rich from 29 anonymous millionaires and billionaires.
Trudeau is imprisoned in Montgomery, Alabama, U.S., until 2022.
Lou Pearlman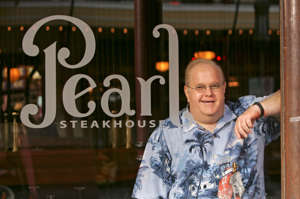 © JOHN RAOUX/ASSOCIATED PRESS/AP Images **FILE**Lou Pearlman is shown at his restaurant at Church Street Station in Orlando, Fla., on Oct. 27, 2006. With latest suit filed in Orlando, Fla., Thursday, Feb.1, 2007, claims against the boy band impresario have grown to more than $130 million through a spate of lawsuits by creditors and investors related to his business interests that range from an airline leasing company to restaurants.(AP Photo/John Raoux) One of America's most successful music producers of the 1990s, Lou Pearlman cheated major banks out of $118 million through Transcontinental Airlines Travel Services, a shell company that he created in 1981 that existed only on paper. 
From 2003 to 2006, he collected money for an "employee investment savings account," promising high rate of return. After his fraudulent activities came to light, Pearlman fled the country in early 2007, only to be captured months later in Indonesia. He is now serving a 25-year sentence in prison.
Paul Greenwood and Stephen Walsh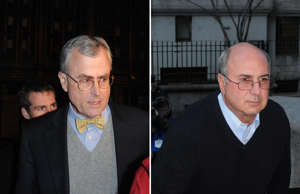 © J.B. Nicholas/Bloomberg Paul Greenwood (left) and Stephen Walsh ran a decade-long investment scam, from 1996 to 2006, targeting high-end investors in a $550 million scheme out of Greenwich, Connecticut, USA. Paul Greenwood (left) and Stephen Walsh were the architects of a $554 investment scam that, from 1996 to 2006, targeted such investors as state and city pension funds, Carnegie Mellon University and the University of Pittsburgh. The SEC said they spent millions of dollars to buy grand homes, expensive antiques, and an expensive collection of teddy bears.
Before the racket was uncovered, a The Pennsylvania Employees' Retirement System was goint to invest $1 billion with the pair. Greenwood received a more lenient sentence in return for his cooperation in the investigation, while Walsh was handed down 20 years in prison.
Scott Rothstein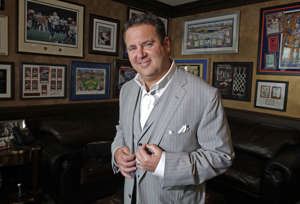 © Miami Herald/MCT via Getty Images/Getty Images Scott Rothstein, a Fort Lauderdale attorney, poses for portrait at his office on Las Olas Boulevard, surrounded by sports memorabilia. (Photo by Charles Trainor Jr./Miami Herald/MCT via Getty Images) South Florida-based attorney Scott Rothstein ran a $1.2 billion scam through his firm Rothstein Rosenfeldt Adler, promising interest rates as high as 15 percent. Florida's largest scam paid well for Rothstein, who spent his money on luxury cars and golden toilets – until federal agents closed in on him. 
In 2010, Rothstein received a prison sentence of 50 years, which later got reduced when he cooperated with FBI to bring down a Florida-based Sicilian Mafia associate.
Allen Stanford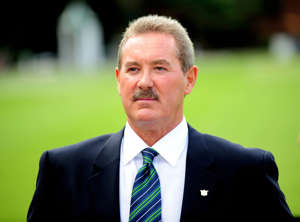 © Rex Shutterstock/Rex Features/Rex Images CB announces deal with Sir Allen Stanford to stage multi-million Twenty20 matches in the Caribbean, Lord's Cricket Ground, St John's Wood, London, Britain - 11 Jun 2008 Sir Allen Stanford. The fortune of Allen Stanford's fraud scheme is only outshined by the length of his prison sentence. Over a period of 20 years, Stanford ran a $7 billion Ponzi scheme, which earned him a spot on Forbes' list of richest Americans. 
However, when he couldn't sustain his scheme, he began bribing auditors and regulators. In 2012, a court found him guilty of conspiracy to commit wire fraud and obstruction, sentencing him to 110 years in prison and a personal fine of $5.9 billion.
Reed Slatkin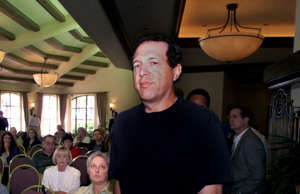 © Carlos Chavez/LA Times via Getty Images/Getty Images Money manager Reed E. Slatkin, enters backruptcy court in Santa Barbara Monday with investors attending the hearing. Digital Image 07/31/2001 (Photo by Carlos Chavez/Los Angeles Times via Getty Images) A Scientology minister by profession and co-founder of a technology company, Earthlink, Slatkin ran a Ponzi scheme for 15 years. Beginning in 1986, he formed an unlicensed investment club, promising a high return of 24 percent. He duped around 800 people out of $592 million. 
He was found guilty of 15 counts of fraud and after serving his 14-year long sentence, was released from a half-way house in July 2013.
Bernard Madoff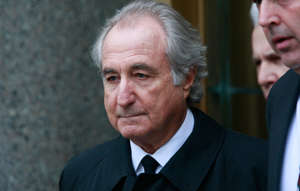 © Mario Tama/Getty Images Accused $50 billion Ponzi scheme swindler Bernard Madoff exits federal court March 10, 2009 in New York City. Madoff was attending a hearing on his legal representation and is due back in court Thursday. Bernie Madoff's investment scam of $65 billion is arguably one of largest Ponzi schemes the world has ever seen. Although the SEC had been alerted about the potential fraud as early as 1992, they could never bust him until he confessed in 2008. 
The following year, Madoff pleaded guilty to 11 federal felonies, including wire fraud, securities fraud, mail fraud, money laundering and perjury. The court sentenced him to 150 years in prison.
Charles Ponzi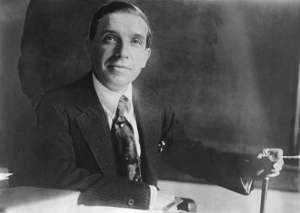 © ullstein bild/ullstein bild via Getty Images/Getty Images (GERMANY OUT) Ponzi, Charles - Banker, Financial swindler, USA *03.03.1882-18.01.1949+ Portrait - ca. 1920 - Photographer: Walter Gircke - Published by: 'Berliner Illustrirte Zeitung' 34/1920 Vintage property of ullstein bild (Photo by Gircke/ullstein bild via Getty Images) When talking of Ponzi schemes, it's imperative to talk about the man who started it all – Charles Ponzi. In the 1920s, his scheme promised investors 50 percent return in 45 days, or 100 per cent in 90 days on international postal coupon investments. 
As a result, Ponzi became a millionaire in just six months, amassing a fortune of $15 million. He was charged with 86 counts of mail fraud and sentenced to five years in prison.
Ponzi was prosecuted again in Massachusetts, where he claimed double jeopardy and the Supreme Court sentenced him to seven to nine years in state prison.
Tom Petters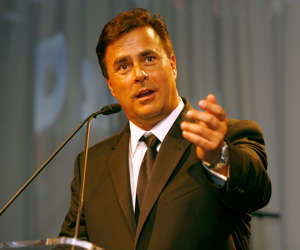 © J. Vespa/WireImage for Fingerprint Communications/Getty Images Tom Petters during John T. Petters Foundation Legacy Gala at The Hilton in Minneapolis, Minnesota, United States. (Photo by J. Vespa/WireImage for Fingerprint Communications) Tom Petters ran a $3.65 billion Ponzi scheme, cheating investors to fund fake electronic goods to sell to retailers who weren't actually purchasing them. 
Petters owned popular companies like Polaroid and Fingerhut, making him look legitimate in the eyes of the investors.
He was charged with 20 counts of fraud, including money laundering, wire fraud and mail fraud on December 2, 2009. He is presently serving a prison sentence of 50 years.
Gary Gauthier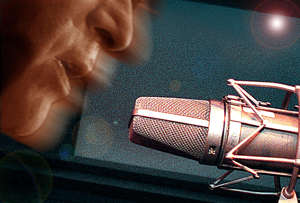 © Fairfax Media/Fairfax Media via Getty Images/Getty Images Radio Show Host Radio show host Gary Gauthier promised senior citizens a return of 8 to 40 percent on investment in real estate, duping 38 investors out of $6 million. 
He advertised the scheme through his show, "It's God's Money," running the scam from 2005 to 2010. He even got a few investors, who he said received a return, to call into the show and talk about how they got rich so quick. 
Gerald Payne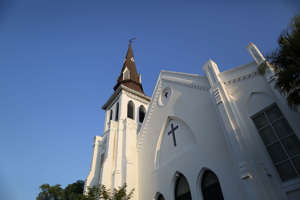 © Joe Raedle/Getty Images Church In the mid-1990s, Pastor Gerald Payne bilked 18,000 people out of $20 million. He asked devoted churchgoers to invest with him and the church, promising to double their money. 
He even went to the extent to say that God had restructured the multiplication of bread loaves and fishes and asked him to share the secret.
Payne kept a low profile, cashing checks written for under the reporting limit of $10,000. However, the IRS got to him by tracking his wife's account, who wasn't as careful as Payne with her checks. Payne was sentenced to 27 years in jail while his wife, Betty, was sentenced to a term of less than 13 years.
Albania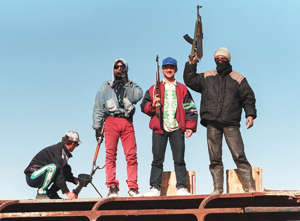 © ERIC CABANIS/AFP/Getty Images PUSHNJE, ALBANIA: Armed Albanian rebels stand on the top of a bus which was destroyed by fire during a riot at a roadblock near Pushnje 12 March 1997 as unrest in Albania inched closer to the capital Tirana. Albanian President Sali Bericha was trying to defuse tension by forming a new government headed by a Socialist opposition. Insurgents 12 March were still demanding that Berisha himself resign, while the opposition was expected to continue haggling over the appointment of cabinet ministers for the new administration. Albania's troubles began in January 1997 with the collapse of fraudulent investment schemes that robbed many Albanians of their life savings. (Photo credit should read ERIC CABANIS/AFP/Getty Images) Even governments have gotten involved Ponzi schemes to bilk their population. In the mid-1990s, the Albanian government endorsed a number of fraud schemes, eventually robbing the citizens of more than $1 billion. Albanians rioted and overthrew the government in 1997.
(Pictured) Armed Albanian rebels stand on the top of a bus which was destroyed by fire during a riot at a roadblock near Pushnje, on March 12, 1997, as the unrest inched closer to the capital Tirana.