UK ivory trade ban a positive step but what next for Africa's elephants?

The Independent
2018-04-16
On 3 April the UK announced that it would impose new and sweeping restrictions on ivory trade. The planned ban, set to be one of the world's toughest, is reflective of a government committed to saving Africa's elephants. It is a popular move - from over 70,000 public submissions made during consultations, 88 per cent were in favour of a ban. It is perhaps the clearest indication yet that the trade of ivory is falling out of favour in the UK.

Although Europe's conservationists have often been at the forefront of elephant conservation efforts, research from the Environmental Investigation Agency (EIA) shows Europe has in fact been the world's largest exporter of legal ivory, most of which ends up in Asian markets. Between 2010 and 2015, the UK. was the single-largest supplier of legal ivory, according to the Convention on International Trade in Endangered Species (CITES).
Video: UK Introduces New Ban on Ivory Sales (Provided by Wochit News)
But Europe's position on ivory could change soon, too. In December, the EU closed a consultation period on the ivory trade and, if public sentiment in the EU is anything like the UK's, Brussels could soon implement tighter restrictions as well. This would build on guidelines issued in 2017 calling for member states to cease issuing certificates for the re-export of raw ivory, along with greater scrutiny of trade in worked ivory.

The UK now joins the US, China, Hong Kong and Taiwan, all of which have announced or implemented bans and tightened restrictions on the trade of ivory. Overwhelmingly welcomed by conservation organisations, many argue that legal trade - even in antiques - stimulates demand by providing the loopholes and cover that smugglers need to launder illegal ivory from recently poached elephants. The EIA estimates that more than 12 tonnes of ivory, sourced from about 1,800 elephants, were confiscated in 16 European countries between January 2000 and October 2017. These numbers are likely only a small sliver of the real illegal trade volumes, argues the EIA, and could point to the existence of criminal networks using the region as a transit point under the cover of the legal trade.
The African Wildlife Foundation (AWF) works in collaboration with governments and communities in Africa to stop ivory and other illegal wildlife products from leaving source markets in the first place. Our programmes tackle the problem from multiple angles, including within communities that live alongside these iconic creatures and protected wildlife habitat. Nearly 80 per cent of landscapes where we work are seeing elephant populations on the rise.
© Associated Press Britain's government said Tuesday April 3, 2018, it will ban the sale of all ivory, the toughest ban in Europe, to help protect the world's elephant population. Our Canines for Conservation programme is also proving to be an effective obstacle and deterrent for poachers aiming to take illegal contraband out of Africa. An AWF-led team matches sniffer dogs with handlers from wildlife authorities and trains them to detect illegal contraband at strategic airports and shipping hubs in key African countries. In January 2018 alone, the trained teams made 34 ivory busts at Entebbe International Airport in Uganda, and reduced the trafficking in wildlife products to a mere trickle at Kenya's Jomo Kenyatta International Airport. 

AWF also trains rangers, prosecutors, and the judiciary across eastern and southern Africa in wildlife law, case preparation and presentation in court so that wildlife criminals, wherever they come from, are brought to justice.
But crucially, AWF is committed to ensuring that the African voice is front and centre of international debates on the ivory trade. Our high-level advocacy work with governments in Africa and Asia argues for strong African leadership on the issue, and Africa's leaders are stepping up. Whilst some are in favour of controlled sustainable trade, others support decisive trade restrictions. Most recently, in March, Botswana and Kenya became the latest of 32 African countries to sign on to a petition asking the EU to end its trade.
© Getty An ivory carver at working in a factory But bans alone are not enough. Shocking reports about body parts of endangered wildlife being advertised on Facebook suggest that the war against this transnational criminal network is far from being won. AWF is proud to be a partner with the International Fund for Animal Welfare which has led on cybercrime since 2014 as part of a broader programme to combat wildlife trafficking. More approaches and alliances of this kind are urgently needed.

Africa continues to lose 55 elephants per day, and stopping the sharp decline in Africa's elephant populations remains hugely challenging. Reducing demand is clearly at the centre of the problem and, whilst demand in Asia appears to be declining, there is still a tremendous amount of work to be done.
There are fears that Hong Kong's ban, which doesn't come into effect until 2022, increases the risk of stockpiling, fuelled in part by smugglers trying to bring as much illegal ivory into the country as possible, to be offloaded "legally" at inflated prices as the ban draws closer. And China's ban and tighter restrictions in Thailand, as argued by the conservation organisation Save the Elephants, is seeing impact in Laos where the ivory market has expanded faster than that of any other nation as it skirts Chinese restrictions to satisfy demand there.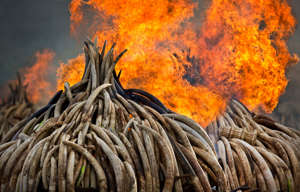 © Associated Press File photo, an ivory statue, right, lies on top of pyres of ivory as they are set on fire in Nairobi National Park, Kenya. It is imperative that Asian governments work together to stay a step ahead of the demand and supply trends. These are certainly fluid, and those involved show resiliency and creativity. Regulatory harmonisation and nations working together will prove crucial going forward if the conservation effort is able to reduce the demand and close loopholes, which provide space for smugglers to continue to operate.

Time is of the essence, and 2018 could shape up to be a turning point in the fight against ivory trafficking. In October, the UK government will host an international conference on the illegal wildlife trade, again bringing conservationists and governments in Africa - and across the world - together to up our game. Commitments made might just prove to be critical in the fight to secure a future for Africa's elephants.
Dr Kirstin Johnson is the UK Director of AWF. For more information visit www.awf.org