"Cristiano, Bale and Benzema will play, we want to score"

AS
27/04/2014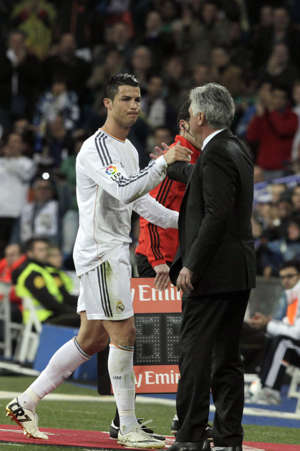 Munich
If they are fit, Cristiano, Benzema and Bale will play in Munich. We want to score, not defend.
Cristiano Ronaldo
He's fine. He played with more confidence than on Wednesday. Everything went well for him and for us. We could give some people a rest and the match went well, although it wasn't very high intensity.
Benzema
He's getting better. He won't have any problem with playing on Tuesday. Tomorrow he'll train, no problems.
Atmosphere
You could see they were happy. It's important. The fans are really up for this and the team can get even better.
Tito Vilanova
I didn't really know him. Just the one game with PSG, but he seemed like a professional person, relaxed. We're all very saddened. Barcelona have lost an important figure at the club.
Same XI who played against Bayern?
I'll put a side out who are keen. I don't think we're coming up with anything new. We'll get ready for it well. I've got a lot of confidence in the players.
Bale
He's had flu and it's left him weak. We preferred for him to be training on his own this morning. He'll be ready for Tuesday.
Will Isco be sacrificed in Munich?
Let's see.
Morata or another new striker?
I've never asked for a striker. Morata had a great game and he's had a great season. I hope he stays. We need him. He could be close to the level of Benzema or Cristiano. We'll talk to him at the end of the season. We'll talk to him at the end of the season.
Is Zidane leaving?
I don't know anything. It's not something to talk about now.