53,000 people say goodbye to Tito at the Camp Nou

AS
27/04/2014
Some 53,000 people attended the Camp Nou over the past two days to pay their respects to ex Barcelona coach Frances 'Tito' Vilanova, who died on Friday.
Barcelona closed the doors to the stadium just past mid-day today, Sunday, after two days of lengthy queues of fans who wished to say goodbye to the man who was Barcelona coach up to last summer, when he was forced to leave the post to receive treatment for recurring cancer.
On Saturday 20,802 fans visited the space dedicated to the coach, which had been opened up in stadium, to sign the tribute book under a huge photo of the ex-coach. Although there was less time to visit the ground today the overall number of fans was in fact higher.
The flags at the Camp Nou will remain at half mast until tomorrow, Monday, and a huge black ribbon will continue to be projected onto the centre-circle of the pitch. Thousands of flowers have been strewn at the Camp Nou for the past two days, together with a message from the club, 'Tito. Per sempre etern' (Tito. Forever eternal).
Possibly the most emotional moment of Sunday morning at the Camp Nou was when the squad of the 'Juvenil B' side attended the stadium to pay their respects. Tito Vilanoa's son Adrià plays for the side.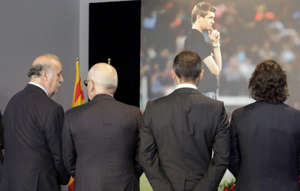 Vilanova served under two Presidents, Laporta and Rosell, and both attended the stadium this morning, expressing their support for the family of the coach.
Spain coach Vicente del Bosque also travelled to Barcelona this morning to visit the shrine to Tito, as did Atleti president Enrique Cerezo.