A lack of goals is Spain's main World Cup problem

AS
11/06/2014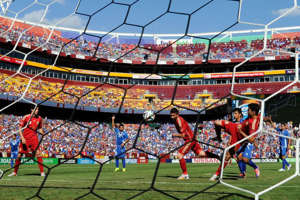 In the list of goal scorers in qualifying the first Spanish player to appear is Pedro, with just four goals. He's followed by Negredo on three, and he isn't in Brazil. Top of the overall table is Mexican Oribe Peralta, with 15; second is Deon McAulay from Beliz, with 11; and third Uruguayan Luis Suárez also on 11. Messi hit the back of the net 10 times as Argentina booked their spot; Cristiano got 8.
The statistics reflect a worrying truth. La Roja may play the passing game like angels, but they struggle to turn possession into goals. The problem was clear at the World Cup in South Africa, where they scored just 1.1 goals per game, and it's been confirmed in qualifying, with just 14 goals in eight games. France got 15, and interestingly ended up in a play-off. The average was 1.7. In Europe, Spain was only ahead of Croatia and Greece (both going to a play-off) and level with Switzerland. Comparing Spain to group rivals and opponents in their first match in the World Cup the Netherlands is downright scary: they arrive in Brazil having scored twice as many goals on average than Spain.
Del Bosque urgently needs more firepower and he's looking for it in Diego Costa. The Atlético striker is a promising prospect, after his great league campaign, but as yet he's not opened his account with the national side in his two warm-up games, against Italy and El Salvador. Against Italy (1-0) it was Pedro who broke the stalemate; against Bolivia (2-0) Torres and Iniesta; while against El Salvador (2-0) Villa, Spain's top goal scorer in the last World Cup with five, reappeared.
The explanation for Spain scoring so few, yet qualifying directly is to be found in their defensive solidity. The average goals conceded per game is just 0.3, the lowest of the sides at the World Cup. And remember in South Africa we only conceded two. Del Bosque will have fewer doubts about the defence, given its smooth operation, though that said the first game up is a worry. The Netherlands have scored an average of 3.4 goals per game in qualifying. Danger, danger, high scoring.