Ambitious Atlético unable to scale Chelsea wall

AS
23/04/2014
When they wake up sweating profusely after a night of nightmares of being unable to scramble over an unmoveable wall, Atlético will simply wash their faces and smile into the bathroom mirror. Tonight's game failed to yield goals, after the home team spent an hour and a half of trying to penetrate Chelsea's defence. But it is a good result – not a magnificent one of course but one which means that a score draw in London next wek will be enough to see Simeone's side advance to the final for the first time in 40 years. Nobody believed that this would be easy and nor, with Mourinho in the mix, would it be entertaining.
Let's be honest, this was a very uncomfortable match to watch. Chelsea's intentions were made clear right from the moment the team list was announced – four at the back, a three-man pivot in midfield (David Luiz, Obi Mikel and Lampard) and three up front, two of whom, Willian and Ramires are more wide men than out and out strikers. It was clear that Mourinho wanted Fernando Torres to feel right at home on his first return back to the Calderón – he handed him a similar role to those dark days of yesteryear when El Niño was left all alone, to face the rest of the world in attack. The world won, as it always did but Torres at least put up a decent fight.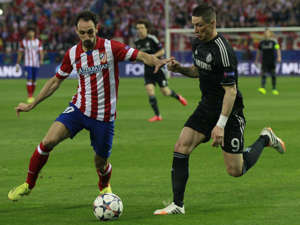 These were circumstances which didn't take Atleti by surprise but did force them to call on all of their available resources. Simeone saw it coming and included Diego Ribas in his starting line-up – the Brazilian possibly his best option in filtering a pass through to the forwards or breaching the Chelsea rearguard with a one-two. He did well, but it wasn't enough. The Rojiblancos advanced without opposition but once they had arrived at the penalty area, they were frozen out. Chelsea invited them to plough deep crosses into the box where Cahill and Terry together with another half a dozen or so players disguised as building site labourers, repelled ball after ball without problems.
The moment which could influence the return leg came on 15 minutes. Koke attempted to score from a corner kick and Cech, who tipped the effort over the bar, collided with Raúl García as he fell and had to be replaced after suffering a shoulder injury. On came 42-year-old Marl Schwarzer, who did admirably. Next week at Stamford Bridge, with more space and less high balls, the Australian will be a better choice than Cech who, as Mourinho confirmed afterwards, is out for the remainder of the season. Mou will have been happy with his second-choice keeper's performance in Madrid.
The first half allowed us to take in and admire the majestic atmosphere at the Calderón with the crowd in full throng – and also to note that match official Jonas Eriksson would dismantle the notion that European referees tend to side with the home team. He was like a child stealing, penny after penny, from his mum's piggy bank. None of his decisions were particularly serious, but he did forgive Lampard a second booking and showed Gabi a needless yellow card which means he will miss the return. Before the break the chances included a Mario Suárez curler which fizzed past the post, a Diego Costa volley and a long-range effort from Diego Ribas which gave Atleti hope for something better in the second half. Chelsea didn't give their hosts a taste of their own medicine – they tripled the dose. Simeone's side looked for a breakthrough while the Blues had no interest in testing Courtois; it was as though Mou wanted to punish the keeper with his own indifference. There was no Chelsea pressure, just clearances and time-wasting…
After another Diego chance, Simeone decided it was time to take a risk and brought on Arda. He wanted more creativity and who better than the Turk to provide it. But El Cholo surprised us by taking off Diego who, together with Gabi, was the best Atleti player on the park. Arda gave the team a new lease of life but the outcome remained the same as before and they were unable to release a frustrated Diego Costa, permanently fenced in by his enemies. The game died as it had started: Atlético advancing and then, nothing. They did enjoy a handful of half-chances – a Gabi free-kick that was palmed clear by Schwarzer, a couple of Raúl García headers, an Arda strike… Atlético were the only side who tried to win the game. They didn't manage to do it but they will have another opportunity and maybe a score draw might be enough. Lisbon is no further away, if anything, it's closer and the last stop is London.