Ancelotti hits back at Rummenigge

AS
25/04/2014
Cristiano Ronaldo: "He finished the game well and needs to play. He'll start tomorrow".

Doubts: "Karim took a knock to his knee and Pepe is also a doubt.... The side will change a little but not a lot as the game against Osasuna is important. Bale is a little fragile still. Tomorrow we'll make a decision about him".

Tito Vilanova: "We are all worried about him. We are deeply sorry. Hopefully everything will be ok".

4-4-2 or 4-3-3: "Sometimes playing with four midfielders is better. The defensive job is from sacrifice and all our players can do so. We can also have four midfielders and Bale, Benzema and Cristiano up top, too".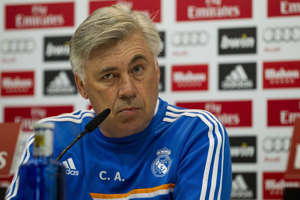 Osasuna: "We're trying to get back our energy and concentration as we are in the fight for the league title. The objective is to win all our games. It isn't easy, because we exhausted a lot of energy against Bayern. We will try and get it back. We're not physically at 100%".

Guardiola: "I like him a lot. He has brought new things to football, creating a style at Barça that he is now implementing at Bayern, although there it's a bit more difficult. The side has the identity of their coach. He is doing a good job".

The system: "We're trying to defend with four midfielders and press higher up and get the ball up top to two wide forwards and a central striker".

Rummenigge: "I hope that trees burn on Wednesday, when we've left!"

Morata: "If Benzema can't play, I will play Morata"
Manchester United: "Every year this happens and I say the same thing. I'm happy here: I'm lucky enough to be at the world's best club. I respect Man United, and what has happened with Moyes, but I'm here".

Khedira: "He is progressing well. He is training with the side, doing supplementary work. He is ready to start, but I can't say when that will be. He could play before the season's end".