Barça searching for Messi, Madrid for their Cristiano

AS
16/04/2014
In the Sacred Book of Football (Incertum est ipsum), fourth chapter, first section, the following may be read: "... for some reason beyond all logic, any time a final is played the team that starts as favourite will lose their exalted position in favour of their rival, the expected victim". The book says it and experience confirms it. In that long distant final of 2011 the favourite was Madrid and Barcelona won it. The same goes for the most recent Clásico in the league, which had almost the same status as a final. Madrid were expected to put things to bed and Barcelona came roaring back. It's clear there's no better motivation than feeling at a disadvantage.
The foregoing explains why no team since the Maracanazo (Uruguay's unexpected 2-1 triumph over Brazil in the final of the World Cup 1950 in the Maracaná) has wanted to publicly accept their role as favourites. It's considered as unlucky as pawing the cup as you head onto the pitch. Thus it falls to the journalist to deal with the ill-fated task of identifying (and publishing) the name of the team that's stronger, that has more of a chance, as if football was an exact science... which it is very far from being. Taking into account these risks (and the chance of a major tumble) I'll say it: Real Madrid are coming into this the better side.
That said, all sorts of objections can be raised. First, and most importantly, is that Messi plays for Barcelona and Cristiano doesn't for Madrid. Against that solid argument (which is enough for the betting houses) is only the current form in the immediate past. Messi ran just a kilometre and a half more than Pinto in the Calderón and didn't put in much more of a shift in Granada. Said with maximum caution: he doesn't seem quite right.
If we expand the spotlight there's no doubt. Barça are beating Madrid four Ballons d'Or to one and 16 titles to four. And add (take away, more like) the 45 goals Madrid lose without Cristiano on the pitch. Seen like that there's no end of an era or reasons not to give Barcelona the title right now.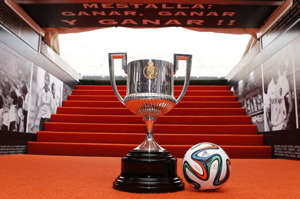 Defences
The nuances though adjust the prediction. Madrid play without Cristiano, yes, but with a decent defence (Dortmund excepted). Barça, on the other hand, have two central defenders who weren't born that way, in fact not even as defenders: Mascherano (1.74m/5'8") and Adriano (1.72m/5'8"). Without Piqué (1.92m/6'3") Barcelona don't just miss a confirmed winner, they lose about 20 centimetres, which is pretty important at dead-ball situations.
Piqué's absence affects another problem that torments Martino and any other Barça fan who's aware of it: bringing the ball out of defence. What used to start with Valdés now starts with Pinto and it starts nervously. From there, to connect to Iniesta or Messi is a stormy affair, if not dramatic. Xavi and Busquets, for the moment, aren't at their best level. For the moment, I repeat. Their resurrection would change everything.
100 million each
The next pair are open to all manner of opinions: Neymar-Bale. Their 100-million-each face off could hold the key to the final, if Messi isn't on his game, or doesn't find reasons to smile. There's not much more to say about the debutants, players who are still unfathomable. We only know that Bale is a producer of statistics unconnected to his game and Neymar is a striker who links up more and produces less numbers. The Brazilian's attire in the tense hours with squad only deserves one comment: nice tribute to the Fresh Prince.
Attitude
What's around and about also has an impact. Ancelotti maintains the intrigue over Illarramendi or Isco, key to understanding the set-up, conservative or attacking, of the team. That's where Barça might find a crack: Dortmund found it pressing Illarra in the first half.
Regarding Pinto, it's necessary to compare him to Casillas, who's fighting for his first title in exile. All the nervousness the Barcelona keeper generates is turned into tranquillity when we look at Iker, unbeaten in the Copa and winner of eight out of 11 finals.
The coaches are last but not least. Both are making their debut and have a large part of their credibility on the line. Martino doesn't have, and probably won't have, any other title so close. Ancelotti's failures in the big games have left a stain.
The Sacred Book of Football recommends delighting in the one certain joy, the build-up. The rest is as uncertain as the text that brought you here.