Big Head the Turtle predicts Brazil will beat Croatia

AS
11/06/2014
Having initially thought about calling it a draw between Brazil and Croatia, Big Head the Turtle finally decided it would be a home win in the World Cup's opening game tomorrow. Cabeção, to give him his name in Portuguese, is a 25 year old loggerhead sea turtle (they can live up to nearly 70 years in the wild) and has been heralded as this year's World Cup oracle. He plumped for his home nation as winners of the first match by selecting and munching the piece of fish under the Brazilian flag (the draw was represented by a tasty morsel under a football). The spectators in the marine sanctuary of Praia do Forte celebrated his considered decision, hopefully ironically.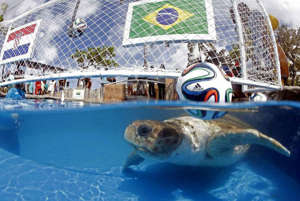 Big Head is taking over from Paul the Octopus, who predicted matches in the 2008 European Championsips and also correctly announced Spain's win in the World Cup in South Africa in 2010. Paul sadly passed away just a few months after Del Bosque's side lifted the trophy.
Loggerhead turtles, which can weigh up to 450 kilos and grow up to nearly 3 metres in length, are an endangered species, with loss of nesting beaches and the introduction of predators taking a toll on their populations. Hopefully Big Head's predictions will help draw some attention to the plight of the world's second biggest hard-shelled turtle.