Champions League win raises Bale's price by eight million

AS
27/05/2014
If there's any team nearly as happy about Real Madrid winning the Décima, it's Tottenham Hotspur. They will receive an extra eight million euros from the sale of Gareth Bale, in addition to the 101 million paid at the time, after the Welshman was involved in winning the Champions League. The total price of the transfer ends up being close to 110 million euros. The performance-related clause, specifying the amount due in the case of a Champions League win, was in the contract signed last summer by Florentino Pérez and Tottenham president, Daniel Levy.
The arrival of Bale at Real Madrid was one of the main transfer stories of summer 2013, holding the attention of media in Spain, England and around the world. In 2012 the Welsh player had managed to get Levy to agree he'd sell him the next summer if there was an offer of over 80 million euros. When Madrid came in for the player though Levy directly demanded 120 million, a sum the Spanish club weren't willing to meet. Bale however was determined to see the move happen.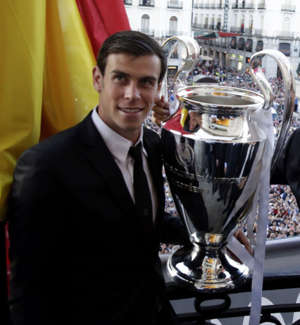 The tug of war between the clubs led to the player 'going rogue' and refusing to train, though he alleged it was due to a knee injury and an ankle knock. He then announced he would never play for the club again, and demanded Levy speed up negotiations with Madrid. His aim was quite clear, to play for Real, a club he'd dreamed of playing for as a boy.
Bale's determination saw him fly to Marbella, where he planned to stay until Madrid officially announced his signing. This forced Levy's hand to a certain extent – the player didn't play a scheduled match against Swansea, and the negotiations entered a final phase, with the fact the deal was going to happen accepted on both sides.
The final priceagreed between Pérez and Levy was 101 million, plus performance related bonuses. Bale signed for six seasons. He was presented at the Bernabéu on 2 September.
This season he scored the winning goal in the Copa de Rey final (2-1 v Barcelona) and the goal that broke the deadlock in extra-time in the Champions League final against Atleti (Madrid winning 4-1 in the end).