Del Bosque: "Nothing compares to winning the World Cup"

AS
11/06/2014
Spain coach Vicente del Bosque said in an interview with French daily 'Le Parisien' that although he has won important matches and major trophies throughout his career, "nothing compares to winning the World Cup".
Del Bosque, whose side open their World Cup campaign on Friday against the Netherlands, said he was confident that his players, reigning World Cup champions, won't be overconfident, despite the number of victories the side has seen over the past six years, since they started their winning streak with the European Championships in 2008.
The coach said that he saw sport as something where "everything changes very quickly" and that a footballer's career "goes by so fast". For that reason he thinks that it's important "to face every competition as if it was your last". Thinking like that, the affable coach said, means "you won't get tired".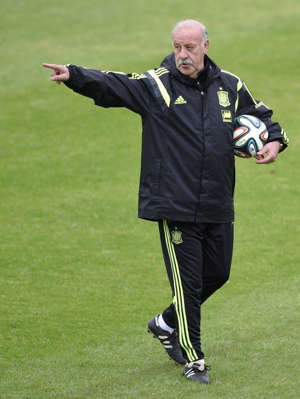 For Del Bosque Spain are not clear favourites. "There are dozen sides who could win the World Cup. And Brazil is without doubt at the head of that list. Playing at home is another advantage."
For Del Bosque it is an advantage for the Spanish side to have players in his side who play their club football outside Spain.
"It's helped us a lot picking up new things, and to ensure we don't feel inferior to other countries. Mentally, we've got rid of the complex the team had historically suffered from".
The World Cup winning coach said he was confident Spain could still surprise opposing teams, despite the fact their style is now well known to adversaries. His hope is for the players to "stay as strong as they have done in recent competitions and that they fight for this fourth consecutive trophy".