Iniesta: "The stage is different but the desire's the same"

AS
27/05/2014
Andrés Iniesta says that although the setting maybe different this time, Spain have the same desire and ambition as they did when they lifted the World Cup trophy in South Africa four years ago.
"We'll be on a different stage, it's a different moment but what hasn't changed is our determination to do things well. We've got an extra, additional responsibility this time – we're the defending champions; we'll be going to Brazil hoping to play an important role. We've got a great side to be able to do that and like before, we'll be taking it one step at a time," the midfielder said at an event organized by 'Mediaset' on Tuesday.
Joining Iniesta was Fernando Torres who spoke about the pressure on the cup holders to deliver in Brazil. "We're very fortunate to belong to this great generation of footballers but we all want more, you dream about achieving even more.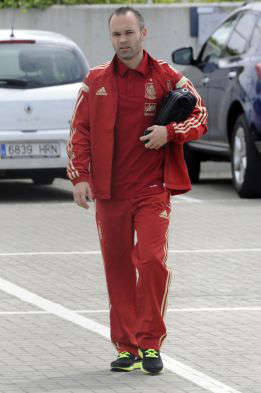 "We're facing a great opportunity – a World Cup in which we are defending the trophy. Last year's Confederations Cup made it quite clear how difficult it is going to be for us. We know what to expect. But that is just an extra incentive for us to try to continue making history. Something like this was unthinkable a few years ago – that's why we have to enjoy it," he said.
Pepe Reina also believes Spain can draw on their experiences at the 2013 Confederations Cup and hopes the team can overcome the volatile atmosphere they encountered last year. "We now know what we are in for. We knew right from the moment the national anthems started up that things wouldn't go well for us last year. That should motivate is this time. If the crowd is hostile, it's only because they are afraid of us; we have to channel that into something positive because out on the pitch, it's only going to be 11 against 11".
The keeper also spoke about the ongoing public protests by locals angered by corruption and public service cuts. "The public have their motives to protest and as long as they can that peacefully, we should try to understand them," he said adding that he doesn't expect to witness any problems or violence during the tournament.