Koke: "Diego Costa is 100% ready to play"

AS
11/06/2014
Koke and Javi Martínez gave a press conference following this morning's training session in Curitiba. Two days before their debut in the tournament against Holland, the Atlético central midfielder spoke about himself and the group just a few hours before travelling to Salvador.
Ambition to win: "Spain always has a winning mentality. This stays the same and we will go out to play our game in our way; this is what has turned the group into winners".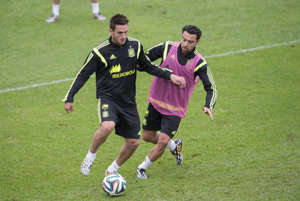 The grass in Cajú:"It's good, short and quick. It's true that we have to adapt to what we get, but we like it because the ball runs quickly and for us this is important".
Future at Atlético: "Right now I see myself playing at the World Cup and that's important. I have a contract with Atlético, and I like it there. Juanfran said he sees me as a skipper at the Calderón, and you never know in life".
Diego Costa: "He's ready. I think you could see it in the game against El Salvador, when he lived up to expectations: he was fine, sprinted, in training he's the same... The way I see him he's at one hundred per-cent, and the boss would say the same".
White shirt: "The fact we have to play in the white shirt shouldn't affect us. What we need to do is give our all, and that will give us the opportunity to get a good result".
Xavi and Iniesta: "I learn more from them every day, and they have a lot to teach. The thing I notice the most is their speed of thought and that they can see so far ahead in the game. They have the mentality to place football".