Martino defends Guardiola's philosophy

AS
02/05/2014
FC Barcelona coach Tata Martino attended the media in Friday's press conference, the focus of which was on whether the possession-based, pass-and-move style of football is now obsolete in today's game and the similarities between the philosophies of Barça and Spain's national side.
Pleasure at seeing Guardiola stumble: "It's as though that, to acclaim the new trends in football, you have to wipe out the previous style. I don't agree with that idea. Those of us who practice football gain satisfaction from doing our job with conviction; sometimes you win and sometimes you lose. You don't have to discredit a style which has made history – a style of football which the national team still employs. Criticizing Guardiola is akin to wanting Spain to lose because Spain's philosophy is based on short-passing football".
Criticism of Guardiola: "There's no need to permanently compare Guardiola with others or with other ways of playing. His achievements were some of the greatest seen in the history of football and ones which the game should feel proud of. Now he has suffered a defeat to Real Madrid. To praise Real Madrid it seems that, for some people, it's necessary to knock Guardiola. His style of football was brilliant. We have to give credit to Madrid and to Atlético. One specific style may be productive but that doesn't mean you have to discredit other ways of playing. It's healthy that every team has their own ideas on how to win".
The league title race: "We're hoping to still be in with a chance on the final day – or at least be in a position where we don't have to depend on other results. Ahead of the Elche game, it's still mathematically possible – the probabilities are not high but they're there. We have to confront this match with the conviction of doing everything well and winning, that's the least we can do".
Tough year: "It's been a very intense season but not a problematic one. The first year is always difficult. I've learned a lot of things this year which will serve me later in my career. I just hope that I can absorb as much as I can".
Learning curve: "It's taught me about working in European football. I've had to learn how to handle praise and criticism. I have learned wherever I have been but here, you have a lot to learn and you have to learn quickly".
The future: "First, I have to focus on these three remaining matches. I haven't said anything to anyone at the club about my future".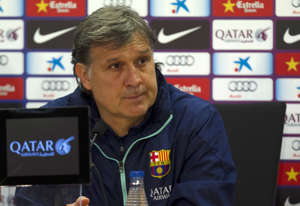 Luis Enrique: "It's not for me to comment on what others are saying".
Long season: "It's hasn't seemed long to me. We never use problems as excuses. Until quite recently, we were still in contention in all three competitions and up until then, it's been a season which has generated great enthusiasm for us".
Puyol: "We've spoken to him and we're all keen to him to play in the final game of the season. He will have the chance to say goodbye to the fans. Let's see if he can be given the all-clear so that he can. It's what we all want".