Ramos: "We didn't dominate, but 1-0 is good enough"

AS
23/04/2014
The match: "We worked hard all game. It was very tough, they like to set the rhythm and keep possession. We had a great game defensively. We came out to press and get the ball back, although we didn't dominate. The 1-0 is satisfactory, it's a good result to take to Munich."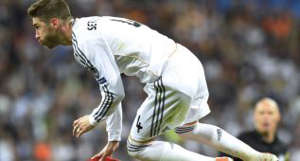 Bayern dominated: "We didn't hand them the ball. It's true they've got amazing players, with great quality and they like to dominate the game. We knew how to play on the counter. I'm happy with the result and the shift we put in, we worked our socks off. And thanks too to the fans, you really notice being at home. With them it's much easier."
Atmosphere in the Bernabéu: "It was amazing. As a Madrid fan, and I've been here for 10 years, it was unforgettable. The arrival at the ground was something else. We're thankful for the love and the support."
Save from Casillas (from Götze in the 84th minute): "We're used to it, if we have something it's two great keepers. He's won us a title already and he appears at just the right time."
Plan for the second leg: "It's obvious that if you want to hurt them you need to go for the game, because 1-0 isn't definitive. We'll go after the match."
Madrid in Germany: "The statistics are there to be beaten. We've a squad, a team, humility and hope."