Silence at the Camp Nou for Tito

AS
27/04/2014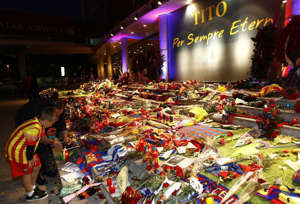 What was most striking at the Camp Nou yesterday was the silence. A heavy silence. Of respect. Thousands of Barcelona visited the stadium, placing flowers, and paid their respects to the late Tito Vilanova.
There was not a peep from the queue of patient fans that turned up to offer their condolences.
Very few wanted to talk. Pep Guardiola, Tito's friend, spoke at the Allianz following the game in which his side came back to win against Werder Bremen. He had the look of someone lost due to the immense sadness he was feeling. In these moments, in a small village of Empordà, with absolute intimacy, Tito Vilanova was buried.
"I want to remember his father Joaquín, his mother Mari Rosa, his wife Montse... I want to express my profound sadness to his family. The sadness I feel will accompany me for the rest of my life. It was a vital experience to share so many professional and personal years with Tito. We knew each other since we were 12 or 13. He helped me. I'm in Munich because of our work together, we learnt a lot together. We wanted to take on the world, but in the end, it ate us up. It is a very difficult time for his family", said Guardiola.
The world of football, irrelevant of allegiances, have united to support not only the Barcelona family, but especially Vilanova's. Barça's players all signed the book of condolences, whilst thousands of anonymous people gathered to pay their respects to a good man.