Simeone: "We were left short in midfield in the first half"

AS
19/04/2014
"In the first half we lacked fluidity and we were overrun in midfield, we were able to correct that when Raúl García came on," said Diego Simeone after Atlético extended their lead at the top of the Liga BBVA table to six points with a hard-fought 2-0 win over Elche.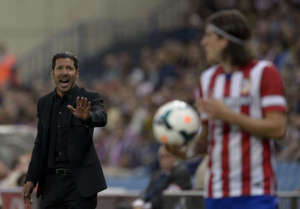 Title race: "The lads put in a great effort and now they need to recharge their batteries as best as they can so that they will have recovered for Tuesday's match which is very important for the club and for the history of Atlético de Madrid".
Difficulties encountered against Elche: "We didn't employ our usual set-up. I decided to field Adrián out wide on the right to try to cause problems for Sapunaru who isn't a natural left-back. But that left us short in other areas and they had more players in the centre of the park and were winning those midfield balls. Later on, playing 4-4-2, we were a lot stronger and more cohesive and that allowed us to create more problems. Diego Costa also gave us more depth and Sosa's did well with his corner which led to the first goal".
Remaining games: "From now until the end, every game is going to be tough and present us with difficulties".
Penalty takers: "For the first one, I told Koke to tell Villa that he would be taking it. For the second one, I asked Raúl García to take it but he didn't hear me and luckily, Diego Costa struck it well".
Can Atlético afford to lose a game? "We're not thinking about that. We have three matches away from home and that's enough for us to deal with".