Tito Vilanova dies aged 45

AS
25/04/2014
Tito Vilanova has died at the age of 45 in Barcelona after a long battle with illness. The former Barcelona coach lost his battle with cancer of the parotid gland, which he had been fighting since 2011. On Thursday afternoon he was admitted to a Barcelona's Quirón Hospital after relapsing from his condition, and just hours later the sad news of his death was announced.
Tito Vilanova took charge of the Barcelona first team in 2012 following Pep Guardiola's departure. Despite signing a two-year contract, in June 2013 he had to leave the Barça dugout to be treated for his illness. His year at the helm of Barcelona saw him win the league title, equalling the record of 100 points in one season.
His managerial career had started many years before when he was number two in Barça B, before going on to become Pep Guardiola's assistant with the first team. As a player he came through the blaugrana ranks, playing for the B team from 1988 to 1990. It was there that he coincided with the likes of Chapi Ferrer, Carles Busquets and Guillermo Amor. After that he represented various Spanish sides, such as Celta, Badajoz, Mallorca and Elche, among others.
FC Barcelona released the following Official Statement following his death: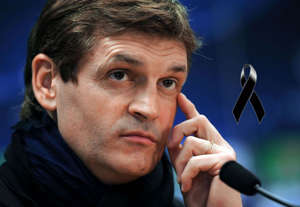 It is with immense sorrow that FC Barcelona announces that Francesc 'Tito' Vilanova i Bayo (Bellcaire d'Empordà, 17/09/1965-Barcelona, 25/04/2014) departed this world today at the age of 45. He passed away this afternoon after losing his battle against an illness that had affected him since 2011.
The Club wishes to express its most heartfelt sympathy to his family, who are being joined in these moments of mourning by FC Barcelona members and fans all around the world, as well as the rest of the footballing and sporting world.
The Vilanova family has asked for respect for their desire for the strictest intimacy in the moments after his death.
Over the next few hours, FC Barcelona will be opening a space in the main grandstand at the Camp Nou for people to express their condolences, which will be open to anyone who wishes to express their sympathy and love for the late Tito Vilanova.
The Club will shortly be announcing when this space is open, as well as details of the religious ceremony that will be held in the coming days.