Firing Up - Enhancing Flavors
DK Publishing
02/07/2014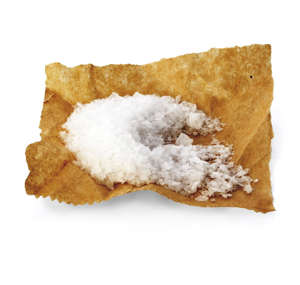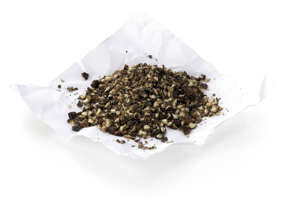 Traditional condiments such as mustard can be opened up by the addition of dried fruits such as apricots.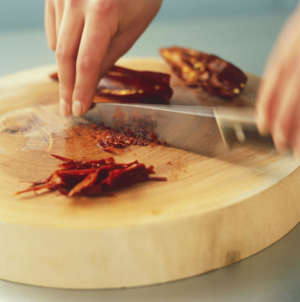 Preparing your own spice mixtures and relishes ensures that flavors are always super-fresh, clean, and lively.
An ordinary paintbrush works better and lasts longer than a cook's pastry brush in the robust world of grilling.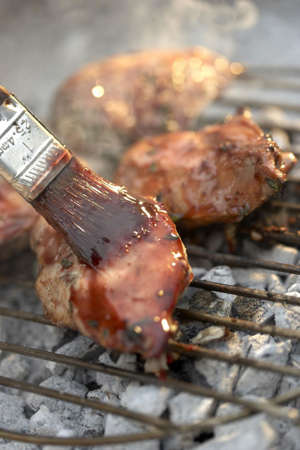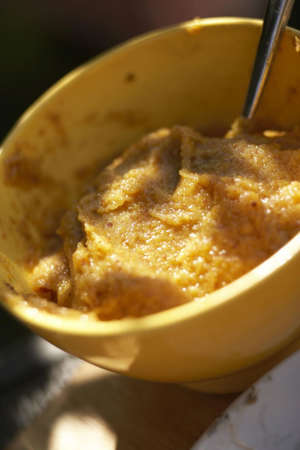 A dry spice mixture can be bound together with olive oil or vegetable oil to form a paste that adheres well to food.
Enhancing Flavors

The unique, supremely delicious taste of grilled food is a perfect vehicle for a wide range of flavor enhancers. From chiles, herbs, and spices used individually, to spice pastes and rubs to glazes and an astonishing variety of relishes, salsas, chutneys, sambals—not to mention traditional barbecue sauces—the grilling world is a world of deep flavor. And, of course, any grilled food is enhanced by the proper use of salt and pepper.
Salt
Add the right amount of salt to a dish, and all the other flavors open up, blend more harmoniously, and become fuller on the tongue. In other words, it tastes better. In our experience, most folks tend to use too little salt. Be a little more generous than you think you should, and you'll likely find your cooking improves. Our preference is for kosher rather than table salt. It has fewer additives, and its large crystals make it easier to judge just how much salt you're adding when you use your fingers—the best way to do it.
Pepper
When it comes to pepper, there is no substitute for fresh ground, which has ten times the flavor of preground. We prefer to grind coarsely so the large chunks explode with flavor and heat in your mouth when you bite into them. As with salt, use it generously. For small amounts, a standard pepper grinder is fine. When you need more than a few tablespoons, you can either crack the peppercorns by rolling a heavy sauté pan back and forth over them while bearing down on the pan, or pulse them three or four times in a clean electric coffee grinder.
Herbs
The fresh, verdant flavors and aromaticity that herbs add to food can't be beat. We sometimes use the dried option when it is traditional in a certain type of dish, but are more likely to go for fresh herbs, since they are more vibrant. We particularly like to toss them into dishes at the end of cooking, an easy way of adding a spark of flavor. We're also very fond of the lovely Southeast Asian tradition of using fresh herbs as greens.
Chiles
Perhaps the most thrilling of all flavorings, chile peppers bring not only heat but also complex character to all kinds of dishes. However, their seemingly endless variety can be bewildering. If you're a true chile-head, then go ahead and experiment with every last one. Otherwise, we suggest you select a type that is readily available where you live, get to know it well, and feel free to use it anywhere we call for chiles in this guide.
Spices
Spices are a large part of what makes everyday food exciting. In fact, one of the things we like best about grilled food is that it has the character to stand up to the intensity of spices. If you can, it's best to buy spices whole and grind them yourself, which increases their depth of flavor exponentially. If you do buy spices preground, don't hold on to them too long, since their flavor fades markedly after a few months. We often toast spices—especially cumin and coriander—which gently brings out a whole new dimension of fragrance.
When to flavor food
We like to salt food before it goes on the fire. Some experts say you should avoid this because it draws moisture out of the food. But we think this is more than compensated for by the fact that the salt has a chance to interact with the food and amplify its flavors. When it comes to adding other flavorings before cooking, we prefer spice rubs and pastes to marinades because they give more intense flavor and can be used at the last minute. We also like to glaze food while it's on the grill—the sweet stickiness this imparts is especially suited to cuts of pork and poultry. And it's rare for us to grill without serving up a homemade accompaniment to the main dish—spicy or fragrant, fiery or cooling—so that our guests can help themselves to yet more flavor.
Spice rubs and pastes
The quickest and most effective way to add wonderfully intense flavors to grilled food is to coat it with a blend of spices before it goes on the grill. Whether dry (spice rubs) or wet (spice pastes), these mixtures work wonderfully well, since the high heat of the fire transforms them into hyper-flavorful crusts on the exterior of the food. Also, they can be made in advance, so all you have to do at the last minute is rub them on and you're ready to cook. Keep a supply of your favorite rub or mix handy, and you'll always be ready for a great grilled dinner.
Glazes
Who doesn't love food with a glistening, slightly sticky, sweetly flavorful glaze? Be careful, though, to add these flavorful coatings only during the last few minutes that the food is over the coals. Most glazes contain a sweetener—either in the form of sugar itself or in some other ingredient such as orange juice, honey, molasses, or currant jelly—so if you put the glaze on too early, these sugars will burn rather than properly caramelizing. As a bonus, surplus glaze mixture can be passed around as a sauce when you serve up the main dish.
Accompaniments
In traditional European cuisines, dishes are often accompanied with sauces created by deglazing what's left in the pan after the meat or fish is cooked. This is not possible with grilling, since there's no pan involved. But cooks in tropical climates, where grilling is the most common cooking method, have created a wide array of fruit and vegetable mixtures to accompany grilled food. Called by various names—salsas, chutneys, sambals, blatjangs, relishes—these inventive accompaniments bring a wealth of pungent, aromatic flavors to the table.