Northwest Italy - Wine Map of Northwest Italy
[Do Not Use]DK Publishing
02/07/2014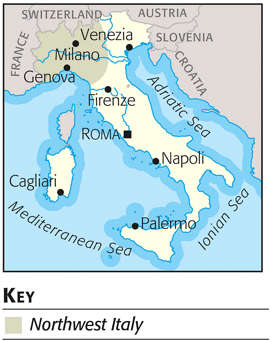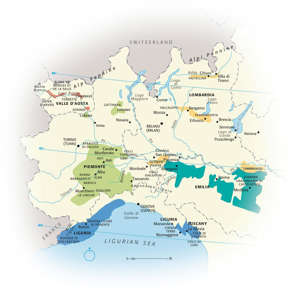 Wines from Giuseppe Mascarello and Bruno Giacosa, Piemonte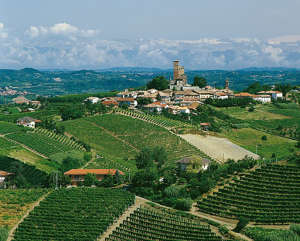 Vineyards and medieval castle in Barolo, Piemonte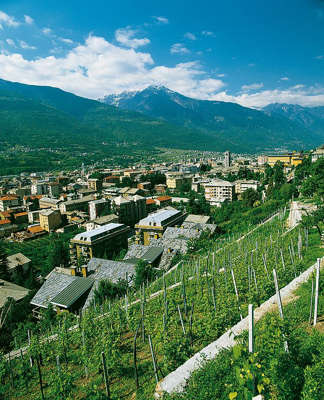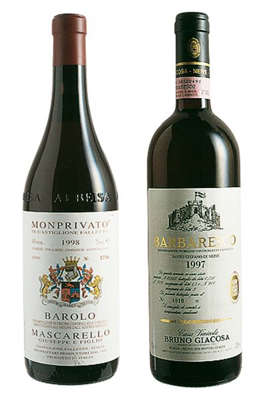 Hillside vineyards in Valtellina, Lombardia
Wine Map of Northwest Italy

The terraced patchworks of Valle d'Aosta's and Lombardia's DOC(G)s are some of Italy's most northern viticultural outposts. Farther south, across the broad valley of the Po River, is the famous winegrowing region of the Langhe, including the powerhouses of Barolo and Barbaresco. Their end marks the start of the Alpi Liguri and the northern boundary of the maritime influence responsible for the breezy flavors of Liguria's whites. To the east, the fertile plains of Emilia are dominated by Lambrusco vines.
Northwest Italy: Areas & top producersValle d'Aosta
Institut Agricole Régional
Piemonte
Angelo Gaja
Braida
Bricco Rocche
Bruno Giacosa
Cascina La Barbatella
Cà Viola
Domenico Clerico
Elio Altare
Enzo Boglietti
Ferrando
Giacomo Conterno
Giuseppe Mascarello
La Spinetta
La Zerba
Luciano Sandrone
Matteo Correggia
Orsolani
Paolo Scavino
Pecchenino
Vigneti Massa
Liguria
Bruna
Walter de Batté
Lombardia
Bellavista
Cà dei Frati
Cà del Bosco
Cavalleri
Mazzolino
Nino Negri
Tenuta Roveglia
Triacca
Uberti
Emilia
La Stoppa
La Tosa
Perfect case: Northwest ItalyTerroir at a glanceLatitude:
44–46.5°N.
Altitude:
Varies considerably from the Colli Piacentini to Valle d'Aosta (100–900 m).
Topography:
Vineyards in the northwest use the hills and mountains to best effect. Valle d'Aosta has the steepest slopes of all; Piemonte and Lombardia's northern vineyards are sited in the foothills of the Alps and face south, overlooking the broad valley of the Po River. Lower altitude and the southern exposure here ensure an ideal mesoclimate for grape growing.
Soil:
Calcareous marl, clay, sand, gravel, limestone and glacial moraine.
Climate:
Climate plays a decisive role in shaping the quality of each vintage in the northwest of Italy, where annual variation can be significant. In Valle d'Aosta and Lombardia, the climate ranges from marginal to cool continental. Farther south, the Mediterranean influence is felt with earlier budbreak and cooler evenings. The Langhe often enjoys a true Indian summer.
Temperature:
July average is 72°F (22°C).
Rainfall:
Annual average is 850 mm.
Viticultural hazards:
Mildew; hail; underripeness caused by fog; cool, cloudy weather; rain during September and October.