Vitamin Directory - Vitamin D
DK Publishing
02/07/2014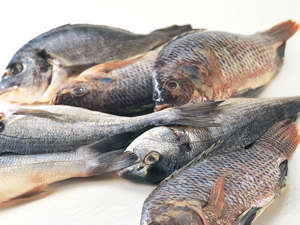 Mackerel - A good source of vitamin D, this fish also contains vitamins niacin (B3), B6, and B12, phosphorus, iodine, selenium, potassium, and heart-protecting omega-3 fatty acids.
Vitamin D

Daily requirement
men: 0.005mg per day
women: 0.005mg per day

This fat-soluble vitamin has an essential role in the absorption and use of calcium and phosphorus, and therefore in the formation and health of bones, teeth, and cartilage (the tough, fibrous tissue that covers the ends of bones at joints). Vitamin D occurs in two forms: vitamin D2, which is found in a small number of foods, and vitamin D3, which is synthesized by the skin when it is exposed to sunlight. Both D2 and D3 are converted into a form that the body can use (active form) in the liver and kidneys.
When calcium levels in the blood are low, parathyroid hormone is released by the parathyroid glands, which are located in the neck. This hormone stimulates the kidneys to convert vitamin D into its active form, which in turn stimulates the intestine to increase the absorption of calcium and phosphorus. Vitamin D is also measured in International Units (IU), in which 40IU equals 0.001mg.
Vitamin D deficiency
In countries where milk and dairy foods are enriched with vitamin D, deficiency is rare. Because sunlight is so important in the manufacture of vitamin D, people most at risk are older adults, especially those who are bed-ridden or unable to get out and about easily.
Deficiency may also occur in people who cover themselves for religious or cultural reasons or for necessity, such as in cold climates, and those living in urban areas with high air pollution who get little exposure to sunshine. Other groups at risk of vitamin D deficiency include those requiring long-term use of certain anticonvulsant medications, which interfere with the conversion of vitamin D into its active form. In addition, people with chronic kidney disease are at risk of a deficiency due to the kidney's inability to convert vitamin D into its active form. Deficiency of the vitamin is characterized by softening of the bones, a condition called osteomalacia in adults and rickets in children. Osteomalacia may lead to pain in the legs, ribs, hips, and muscles, easily broken bones, and difficulty in climbing stairs or getting up from a sitting position. Rickets leads to deformity of the bones, especially bowing of the legs and abnormal curvature of the spine.
Good sourcesVitamin D
This is found naturally in all these foods, which contain at least 0.003mg of the vitamin per 13/4–31/2oz (50–100g):
Egg yolk
Cod and halibut liver oils
Mackerel
Salmon
Sardines
Tuna