Natural Storage - Storing Apples and Pears
DK Publishing
02/07/2014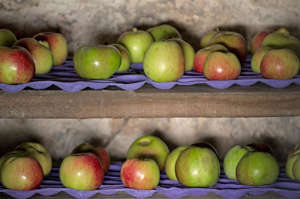 Late-cropping apples and pears - Pick fruits before the first frosts and store only the perfect ones separately on trays so they aren't crowded and have air circulating around them. Each variety ripens at a different pace.
Storing Apples and Pears

Only apple and pear varieties that mature in autumn are suitable for long-term storing, as they need time to develop their flavor.
Harvest
The way you harvest the fruit is crucial, as it bruises easily and cannot then be stored. Cradle each fruit in your hand (with pears, it helps to have your index finger close to the stem), tilt it gently upward, and give a slight twist: the fruit is ready to pick when the stem comes away easily from the branch and the fruit drops into your hand. Lay each fruit carefully in a picking basket.
Pears ripen differently than apples: once fully ripe, their flesh quickly turns soft and woolly, so pick and store them while they are still unripe. To complete the ripening process, bring them into a warm room for a few days.
Store
Arrange the fruit on produce trays stacked on shelves in a cool, dark, not-too-dry place such as a garage, attic, or cellar (the ideal temperature is 35–40°F/2–4°C for apples, and slightly warmer for pears). Apples—but not pears—can also be wrapped in newspaper or tissue paper and put on trays or packed in layers in shallow boxes.
Alternatively, if you have the space, store the fruit in the fridge: put separate varieties in large freezer bags, pierce the bags with a few small holes, tie or fold over the tops loosely, refrigerate, and check regularly, as they ripen at different rates from late autumn to early spring.