On a Stick - Flavor Footprint - China
[Do Not Use]DK Publishing
02/07/2014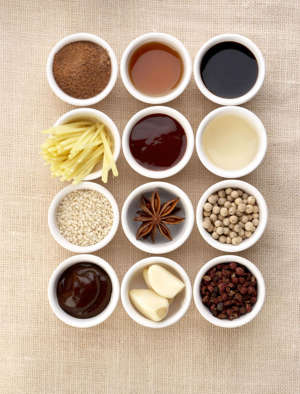 Signature ingredients - Top row (left to right): five-spice powder, Asian sesame oil, soy sauce; second row: ginger, chile sauce, rice wine vinegar; third row: sesame seeds, star anise, white peppercorns; bottom row: Hoisin sauce, garlic, Szechuan pepper.
Flavor Footprint - China
In many ways, of course, it is ridiculous to talk about a single flavor footprint for a country as huge, with cuisines as varied, as China. But in fact there are a handful of ingredients that, when combined in a dish, evoke the cooking of this country, at least to Western taste buds. Five-spice powder, sesame oil, hoisin sauce, Szechuan peppercorns, and star anise are probably the most distinctive of these, perhaps because they all either originated or were first created in China. With one or two of these easy condiments on hand, you can effortlessly expand your flavor horizon.