Put a Lid on it - Flavor Footprint - West Indies-Caribbean
[Do Not Use]DK Publishing
02/07/2014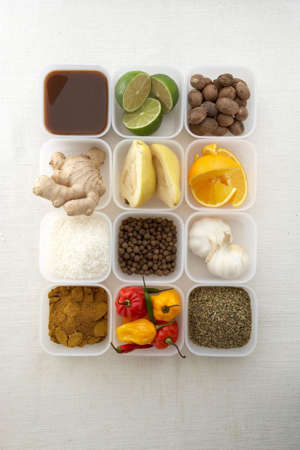 Signature ingredients - Top row (left to right): tamarind, limes, nutmeg; second row: ginger, guavas, orange; third row: coconut, allspice, garlic; bottom row: curry powder, chiles, oregano.
Flavor Footprint - West Indies-Caribbean
The flavors of the West Indies reflect the region's complex history. Allspice and Scotch bonnet peppers, for example, originated in the islands, while bananas and coconuts were brought by Europeans, and the widely popular curry powder arrived with Indian indentured servants who were brought in to work the plantations after slavery had ended. From this melting pot of ingredients has come a group of distinctive, boldly flavored cuisines. Just try a couple of the dishes here, and you'll bring the ease and excitement of the islands right into your kitchen.