De trend die je nooit meer uit wil doen
Fashionchick NL
20-3-2017
Ben ik de enige die rekening houdt met bepaalde outfitkeuzes wanneer je uit eten gaat? Niet te strak over mijn buik, geen drukkende knopen in je taille en ga zo maar door. Het liefste ga in je meest wijde tent de deur uit, zodat je lekker kunt eten en geen rekening hoeft te houden met je goed gevulde buikje. Ook in het dagelijks leven is een beetje comfort in je outfit zeker niet ongewenst. Want hoe lekker is het om comfortabel gekleed door het leven te gaan, terwijl je er ook nog eens uit ziet om door een ringetje te halen? Héél af en toe werken de trends een beetje mee aan onze wensen. En dat is deze keer het geval. Yay. Want deze lente dragen we wijde, soepelvallende silhouetten. Pakken, jurken of jassen. Lekker oversized. Anna Rike laat je zien hoe het gedaan moet worden. Kijk maar mee! 
Accepteer ons privacy- en cookiebeleid. Het is niet toegestaan Youtube video's te laten zien zonder toestemming.
Shop de look van blogger Anna Rike
Vogue Ronde zonnebril
Brandfield
€ 109,95 € 93,46
Ganni top
de Bijenkorf
€ 179,00
Furla Crossbody tas
Duifhuizen
€ 295,00
Prada Foundation poeder
de Bijenkorf
€ 114,50
Ganni Culotte
de Bijenkorf
€ 199,00
Adidas Basic sneaker
Stylefile
€ 77,90
Chantelle Balconnet
de Bijenkorf
€ 79,95
Essie Nagellak
The Make Up Spot
€ 9,99
Zalando Collection ring
Zalando
€ 14,95
Chantelle
de Bijenkorf
€ 38,95
Vedder & vedder armband
Sieraden.com
€ 89,00
ivy & oak Lentejas
Zalando
€ 179,95
Shop de look van Yara
My Jewellery Creolen
My Jewellery
€ 14,95
Only jumpsuit
Zalando
€ 39,95
Even & Odd Stiletto
Zalando
€ 34,95
Foto's door: Kee and Kee
Wil je geen aflevering van  Fashionchick: Elke dag een look  missen?  Abonneer  je dan nu op ons YouTube kanaal!
Meer van Fashionchick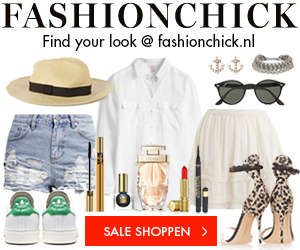 Fashionchick NL