"It feels like most of you is missing"
Teamtalk
11/06/2014
Ex-England hooker Andy Titterrell speaks out on mental health issues in rugby and the difficult transition from playing to retirement.
Wednesday June 4 should have been a day to savour for Andy Titterrell. Against the odds, his team, London Welsh, the club to which he had dedicated a gruelling season of toil and graft, clinched promotion to the Premiership at the first time of asking.
The rain lashed down at the Memorial Ground as Welsh's brave band of brothers kept the big bucks of Bristol at bay to regain their top-flight status; it was a night for celebration.
Only for Titterrell, the occasion was bittersweet. Rather than slogging it out on the rain-soaked turf, carrying, tackling, rucking, scrummaging, where he had plied his trade for so long, embracing Seb Stegmann as the wing hacked the ball downfield and splashed down for the winning try, the ex-England hooker looked on from the stands.
Sure, he may have sported a grin as broad as the Thames, and cheered with just as much gusto as any Welsh supporter when Luke Pearce called time at the Mem, but inside, he was hurting.
For Titterrell's playing days are over: an awkward scrum collapse in training nearly seven months ago and the devastating confirmation in February that the resultant neck injury had curtailed the 33-year-old's 13-year pro career .
In the days before the play-off decider, he stayed at the team hotel. He bantered with the lads like nothing had changed. He felt the same pre-match nerves that had kept him focused ahead of so many big games in the past.
His former team-mates were pleased to see him. Together with fellow veterans Tom May and Gordon Ross, Titterrell had helped the raise the bar off the field at Welsh, founding the club culture, spirit and ethos upon which Wednesday's triumph was built. His labours had borne fruit, yet he struggled to truly take pleasure in them.
Like it or not, things were different.
"I wasn't made to feel like an outsider," says Titterrell. "But I did."
"I couldn't channel my energies anywhere - I was so nervous for the club, for the boys. As a player I always had that, but I could channel it by playing and performing on game day. But as a coach or a fan, you've got nowhere to push that kind of thing.
"It feels like most of you is missing."
The transition from player to ex-player, and the pursuit of a new career is something many professionals find challenging. It's not difficult to see why.
There's the daily schedule like no other: the training, the camaraderie, the travel, and the matches. Titterrell relished the lot.
"I enjoyed every aspect of it - I enjoyed travel to games, I enjoyed summer tours, I enjoyed the pre-seasons that you knew were going to be horrendous; I thrived on them," he admits.
"Not to have that as part of my daily routine at the moment is a struggle. I knew it wouldn't last forever, no matter how much I wanted it to."
Then there's the gaping void the sport leaves in a man's life, the hours left to fill, and the hopelessly impossible task of finding a pastime or profession that can match the high of the professional game.
For how can one possibly emulate the raw thrill of running out to do battle before 70,000 fans at Twickenham, of lifting the Premiership trophy, of touring with the Lions in New Zealand by donning shirt and tie and punching the clock forty hours a week?
Indeed, what else, after nearly 15 years in the game, did Titterrell know in life? It was a form of institutionalisation from which he had suddenly been unshackled. One week, he was invincible, the muscle-bound hard-man who held the universal respect of his peers. The next, in a split-second set-piece slip, it had all been cruelly snatched away.
"Some people I know have been quite happy to walk away from the game, to not see the inside of a gym or rugby field again, and can quite happily sit down and watch with no emotion whatsoever. But I just can't see that happening with me," he states.
Strength and conditioning is his passion, sculpting a physique athletic even by the lofty standards of professional rugby. It is through this, and coaching, that he hopes to remain in the game, but despite his experience and expertise, offers of work have proved few and far between.
That said, Titterrell is adamant the values instilled in him by his career in rugby are now paying dividends. The driven nature, single-minded focus and sheer persistence that saw him reach the pinnacle of the sport are keeping him on-track.
The phrase "I backed myself" crops up again and again. Never had he allowed any doubt to cloud his mind as a player, not since signing his first pro-contract for a measly £5,000 per year at Sale.
Now, though, there is a degree of uncertainty. His world is filled with questions, and for perhaps the first time in 13 years, Titterrell doesn't have the answers. Though excited by new opportunities, he feels "daunted" by the unfamiliar surroundings, the cruel hand life has dealt him after a career of winning big.
He has no qualms over admitting his fear for the dangerous path down which he may venture; the dark road to depression he vowed never to trail since banishing his demons several years ago.
But borne of a macho culture, a determined, self-sufficient and above all successful sportsman, Titterrell says it can be difficult to ask for help.
"I don't mind admitting that I'm scared I won't be involved in that rugby environment," he begins.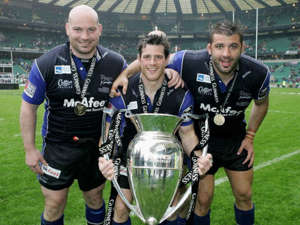 "But these are challenges. I might not like what's put in front of me sometimes, but I need to suck it up and get on with it. I will apply myself the same way I did as a rugby player - rugby gave me a lot of my thought processes, because I knew what I wanted out of the sport.
"It became how I would conduct myself, how I would strive to be successful; I'll take that into my next position, whatever that will be.
"Professional sport doesn't last forever - when you do finish, it's a bitter pill to swallow, especially because it wasn't on my own terms. I'm not sure when I will come to terms with it, but that's down to me to deal with.
"It's not easy, every morning waking up knowing that you've not got the sport to go to, it's something I guess that will drive me more because I've got people depending on me now.
"There's help there if you want it from the RPA (Rugby Players' Association), but in a way, you almost have to swallow your pride to ask for it. I know it's talked about all the time how guys don't like to have to ask, but I think mentally it can be quite damaging because you bottle a lot of things up and you can spiral out of control
"One thing leads to the next, and in the end you don't know what to do with yourself or which way to turn.
"Guys just want to be able to speak about mental health and have help working out how things won't be the same in their next profession. They might be afraid they're not going to get the same enjoyment out of their next job, or the satisfaction from their home life.
"I do think there is a stigma around asking for help. I also think it takes a lot of courage for that person to do that.
"When I had mental health issues a few years ago, the first step was admitting to yourself that you had an issue. Once you admit it to yourself, it's then easier to go and seek help from someone.
"A couple of weeks ago, I was having a pretty bad day, and I called up the girls at the RPA and told them I was struggling, and that I needed to start looking outside of rugby. I needed to try things and experience things in a different light.
"They were fantastic, they put their heads together and suggested a few things, sorted out an introduction to a company up in Manchester where I can go in and I can see how things are run in a recruitment firm. If it wasn't for me being bold enough to pick up the phone and tell them, that wouldn't have happened.
"The penny's finally dropped that if things don't go how I want them to in rugby, I might have to put on a shirt and tie rather than a tracksuit and trainers. It helped me massively, it gave me a different perspective - it was a bit like a weight off my shoulders. It felt like I could breathe again.
"I'm not saying that's the route I'm going to go down, but it's such a weight off knowing somebody's keeping an eye out for things for me. They might find something that suits my skillset.
"I've got a great support network of friends and family to help me through those times. It's not been easy, but I can recognise pretty quickly when I'm having one of those days. They don't come around too, often, but to know that they're still there scares me."