Steyn in financial dispute with SARU?
Teamtalk
11/06/2014
Reports in the South African press suggest Sharks utility back Frans Steyn's sudden departure from the Springbok camp could be due to a financial dispute.
On Tuesday the South African Rugby Union released a statement which revealed that Steyn pulled out of the Boks' June Test series, against Wales and Scotland.
In the statement the 27-year-old - who is furthering his career in Japan at the end of the Sharks' Super Rugby campaign - said he needed time to reflect on his Springbok future.
But according to a report on the Volksblad website, Steyn and SARU are at loggerheads over promises which the governing body made to him in 2012, when he returned from a stint in the Top 14 with Racing Metro.
Steyn's dispute with SARU is because he is allegedly earning half of the money which he could have made overseas. There is no clarity on what SARU's supposed promise to Steyn was upon return from France.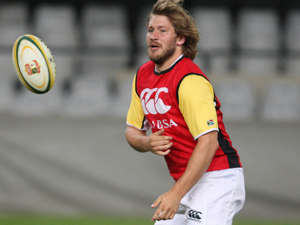 SARU's press release gave no concrete reason to why Steyn, who has been playing with a chronic knee injury, pulled out of the squad.
Despite his knee problem, Steyn has carried a heavy workload for the Sharks this season but he wasn't at his best in the Boks' win over the World XV last weekend, and looked like he needed a rest.
His withdrawal from the Bok squad comes as a surprise, however. It is reported that he had an argument with SARU during a Bok training camp in Durban two weeks ago. Volksblad alleges that he expressed his unhappiness before he got into his car and left the camp.
South Africa host Wales in Durban on Saturday and Jan Serfontein is expected to replace Steyn at inside centre in the Boks' starting line-up.