These are my toughest days - Meyer
Teamtalk
11/06/2014
Springbok boss Heyneke Meyer has admitted the last 10 days have been the toughest he has faced since the start of his coaching tenure with the two-time world champions in 2012.
Frans Steyn's sudden and still not effectively explained withdrawal from the squad on Tuesday was the latest of several last-minute changes that Meyer has had to make since announcing his first training squad two weeks ago.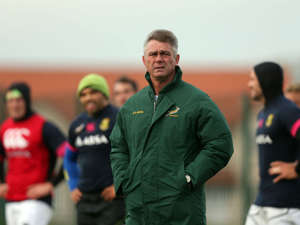 It started with the news that Jacques Fourie had to have an ankle operation, which could rule him out for the rest of the season.
After that, his first-choice captain, Jean de Villiers, was forced to withdraw at the last minute from the Stormers' clash with the Cheetahs at Newlands due to a knee injury which would eventually sideline him from the the Boks' Tests against the World XV, Wales and Scotland.
Damian de Allende then sustained a knee injury in that match against the Cheetahs, which ruled him out for six weeks and Juan de Jongh has been ruled out of Saturday's Test against Wales with a chest infection.
And the revelation that Steyn was attending the training camp in Durban with a chronic knee injury prompted Meyer to admit that he was concerned about the player's fitness at the time.
"It's definitely been the toughest few weeks for me," Meyer said on Wednesday.
"You plan for five months, you can't wait to get going and then suddenly you get curve balls from all over.
Meyer said he had always had a good relationship with Steyn and accepted the Sharks' utility back's decision to make himself unavailable for the Springboks.
"Obviously I'm a little bit disappointed that he's not available, but I respect his decision," added the coach.
"I just want to wish him and his family the best of luck for their future.
"People always say the third year is difficult. You always think it's going to be smooth sailing but that's the challenge of the team.
"I truly believe we have experienced players and you've just got to get on with it."