Bigg Boss 10: Akansha Sharma is voted out of the show

Hindustan Times
31/10/2016
© Provided by Hindustan Times Commoner Akansha Sharma, was voted out of the ongoing reality show, Bigg Boss, becoming the second participant to be eliminated from the tenth season of the show.
The Gurgaon girl, who is the ex-wife of Yuvraj Singh's younger brother Zorawar, spent a rather quiet two weeks inside the house of Bigg Boss 10. Salman announced Akansha's eviction from the show, declaring Nitibha Kaul, Rohan Mehra, Monalisa, Manoj Manu Punjabi, Manveer Gurjar and Gaurav Chopra safe from elimination for the week.
Akansha had indirectly accused her mother-in-law, Shabnam Singh, of ill-treating her and blamed her for her failed marriage. Reacting to the allegations made by Akansha, Yuvraj's mom Shabnam Singh has told Hindustan Times, "First of all, this matter is sub judice and she (Akansha) is not allowed to speak. It goes under the contempt of court. There's a special petition I had filed. Anyone can understand the agenda here and everybody knows it. We are not allowed to speak on this matter."
Akansha's eviction leaves 12 contestants inside the Bigg Boss house: commoner contestants Nitibha Kaul, Manoj Manu Punjabi, Manveer Gurjar, Lokesh Kumari Sharma, Om Swami and celeb participants VJ Bani, Karan Mehra, Rohan Mehra, Rahul Dev, Gaurav Chopra, Lopamudra Raut and Monalisa.
Bigg Boss is scripted on the lines of the British television show Big Brother. The show's format keeps participants locked inside a house for three months with no access to the outside world.
Recommended: Best photos from 'Bigg Boss 10'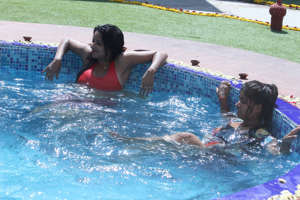 You may also like: All you want to know about Bigg Boss 10