Ex-Bigg Boss contestant Diandra Soares shuts down body-shamers with an empowering message for women, see pics

The Indian Express
02/03/2017
Ex-Bigg Boss contestant Diandra Soares is hogging headlines again. Her recent pictures are the hottest thing you would see today but beware, for we do not want you to consider it as a regular photo shoot with no purpose. The model, who was in news for her web series Aisha, has shut the body shamers and is spreading the message of women empowerment.
She is asking them to love their bodies with her sensual and sexy photo shoot with actor Kushal Punjabi. Diandra shared a picture on her Instagram and wrote, "ladies, a real man wants real curves. Love your curves, flaunt em' be proud of your changing body .... a woman's body has the power to give life so treat it with respect !!!! Stop body SHAMING yourself first... love your body n it will love you back #BodyPositive."
See also: All the latest pictures of Big Boss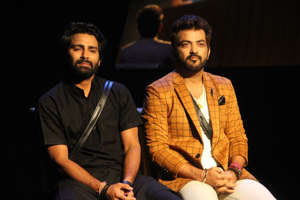 Bigg Boss 10 - January
The photo shoot was conducted by celebrity photographer Jitu Savlani who himself shared the picture with a strong caption that read, "Behind every great man stands no woman. There is no greater man than the man that can acknowledge the woman standing right next to him." 
Diandra, after giving credit to Jitu, was all praise for Kushal Punjabi too. She wrote, "And last but not the least the very talented actor/model/dancer/ biker ... the list is endless ... and most amazing friend Kushal Punjabi you rock my world and this shoot ... was a pleasure working with you." Model Diandra was known for her stint on Bigg Boss season 8. She was in a relationship with fellow contestant and model-turned-actor Gautam Gulati during the show, but broke up by the end of the season.
Diandra, who has always been someone who calls a spade a spade, was also a victim for thyroid. In a leading tabloid, she opened up about her struggle with the ailment, her weight and how to be body positive no matter what. She has been an inspiration for youngsters and aspiring models for her bold and on-the-face attitude.