Suhana Khan is a total stunner and these photos are proof

The Indian Express
23/12/2017
If Shah Rukh Khan is a dream and Gauri Khan is an epitome of grace then Suhana Khan can be effortlessly tagged as the stunner of the next Bollywood generation. SRK's 17-year-old daughter was present at the Cirque Le Soir to Delhi, a "one-night-only" party, in the capital where she turned heads with her appearance. We must say that she has borrowed the best from both her parents as she has got the grace of her mother and camera presence like her father. Usually, Suhana avoids paparazzi. She is often seen running away from all the attention she attracts for being the gorgeous daughter of a charming actor like SRK. However, at the event yesterday, she quiet patiently posed for the shutterbugs, and yes, she was nothing less than a dream.
This is not the first time when Suhana's pictures have made it to the headlines. Gauri had earlier shared a picture of Suhana in a swimsuit and the internet went gaga over it.
While the next generation of Bollywood has already started to take over headlines be it Sara Ali Khan or Janhvi Kapoor, we are keen to know when Suhana would be making her debut. In an interview earlier this year, Shah Rukh had mentioned how she aspires to be an actor. "Suhana wants to be an actress. I see that zeal in her. She's extremely good on stage, I've seen her performances. She's admittedly a cinema fan and wants to be in the industry," the superstar told DNA.
Check more pictures of Suhana Khan: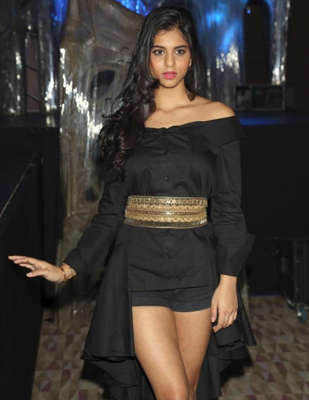 © Indian Express
During the conversation, SRK opened up more on Suhana and said how he feels she is "more loving."
"While Aryan has now grown up and is more macho, he's building his body and all, Suhana is more loving. I think she's the softest person in the house. And AbRam is my little monster," said the actor.
Well, we love Suhana already and cannot wait to know what's going to come next from her end.
More from The Indian Express

The Indian Express