Priya Prakash Varrier: The girl with the winning wink

Khaleej Times
07/04/2018
When your claim to fame and overnight stardom is a simple wink, it can be hard for a budding starlet to avoid getting typecast in similar roles. But Internet teen sensation Priya Prakash Varrier comes across as a confident girl with many latent talents, an interview with her revealed.
She catapulted to fame after a teaser from her debut, yet-unreleased Malayalam film, Oru Adaar Love, went viral on the Internet for her innocuous wink at fellow co-star Roshan Abdul Rahoof. The 18-year-old is currently the third celebrity in the world to get more than 600,000 followers on Instagram in a single day. She trails celebrities Kylie Jenner and Cristiano Ronaldo. No mean feat for a small town girl who bowled over millions of fans globally with one priceless expression and cheeky mannerisms.
"I don't want to be typecast as just a wink queen. I want to do a gamut of roles and prove to be a good actress. My dream role would be a villainous character. I want to try my hand at everything," Priya told Khaleej Times during a tour of the Medeor Hospital in Dubai on Friday.
Also see: The gen-next of Bollywood is here!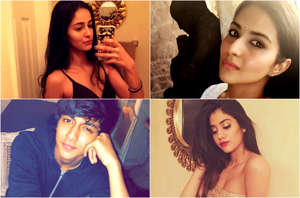 With a fan base of 5.3 million followers on Instagram and thousands on other social media platforms, Priya today is a bona fide star. Her accounts on Facebook and Twitter are verified - a feat she accomplished in the matter of a few days. Atta girl! However, it took a while for her to come to terms with the overnight fame and adulation.
For a simple 18-year-old pursuing her bachelors in commerce from one of the leading women's colleges in Thrissur, a small town in the state of Kerala, the furore over her expressions was initially overwhelming. Her non-filmy upbringing (father is a Central Board of Excise and Customs employee and mother is a housewife) helped her stay grounded even as the world kept swooning over her dramatic expressions.
"I never expected a simple wink to go so viral. I wasn't prepared for it. My family and I have come to terms with my fame now. I have gotten busier now in terms of work. I also get recognised wherever I go and people randomly wink at me on the street," said the soft-spoken, yet confident Priya, basking in the glory of her new-found fame.
Priya trained in Indian classical dance until Grade 10, but also enjoys music. The star has mentioned in earlier interviews that her dance training may have inadvertently helped in the million-dollar wink scene. However, she also attributed credit to her director and co-star for the spontaneity of the scene and its success.
Although Priya was once prolific in sharing posts on social media, she exercises restraint now since she turned into an overnight sensation. Like they say, with great power comes great responsibilities.
"Before, I posted all pictures I clicked on social media. Now, I think 10 times before posting on Instagram," the actress divulged.
The starlet was also at the receiving end of threats for her expressions in the song Manikya Malaraya Poovi which set social media on fire. Fanatics claimed the song insulted religious sentiments and even attempted to initiate court proceedings against her. However, she has the maturity to take it all in her stride.
"It's all part of the game. It does not perturb me," she retorted.
Coming from someone who is enjoying her first tryst with fame, Priya's diplomacy comes across as precocious. She has only dabbled in modeling and done a few short films earlier. Oru Adaar Love is her first full-length commercial film.
Priya, who was until recently only allowed to use a mobile phone without a SIM card, clarified that things are different now and uses the device herself without parental supervision. Earlier, she was only allowed to receive calls on her mother's cell phone and browse the Internet on her mobile when the Internet hot spot was active at home. The star, who has now hired a PR manager to handle interview requests and sponsorship deals, has finally come of age.
And for all her million fans besotted with her unconventional looks and spunk, there's cause to cheer: Priya admitted that she is single, "for now".
The industry grapevine was thick with rumours that Priya had been roped in for a role in one of Rohit Shetty's films opposite Bollywood hunk Ranveer Singh, who she is an ardent fan of. Reports also claimed that the teenager had landed a role with Tamil star Suriya.
However, Priya is taking it slow for now and stays tight-lipped about her future projects. But she is ambitious and did not rule out making a foray into Bollywood and other film industries.
"I plan to continue acting. But, I haven't committed to any new film offers as yet. A lot of offers are pouring in. I even got a call from Bollywood, but haven't signed anything as yet. I am just waiting for my debut film to release for now," Priya added.
Oru Adaar Love is scheduled to release in the second week of September 2018, informed director Omar Lulu. Cashing in on the actors' fame, the promoters will release it simultaneously in Bollywood, Malayalam, Tamil and Telugu.
"The movie is a simple, feel-good musical rom-com based on school friendships," said the director, who has earlier helmed two films - one an outright comedy and the other a youth entertainer.
Despite Priya's exponential fame, co-star Roshan has not been overshadowed and managed to win female hearts with his cute mannerisms in the film. Born and raised in Abu Dhabi, Roshan gained prominence after participating in a dance reality show on Malayalam television. The 19-year-old, who is also making his film debut, is a huge fan of Shah Rukh Khan and hopes to act with him someday.
"It's a new experience to get recognized. I am getting so much love from everywhere. My phone has never stopped ringing since the song released and I get mobbed every time I step out. I am also open to exploring new genres and characters. Priya and I are enjoying the fame together," said Roshan.
The two, who are paired together on screen, seem to be good friends and shared great camaraderie during the interview. They frequently share pictures together on Instagram, promoting the film and sharing other light moments with the film's co-actors.
"We planned to change the script during the initial days of shooting. I discussed with the producer to give more prominence to the characters of Roshan and Priya since they were doing so well," explained director Omar.
Well, this is one film we gotta watch out for to know whether the youngsters live up to all the hype.
And Watch: Bollywood REACTS On Internet Sensation Priya Prakash's Varrier