Actress dies from snake bite during a live performance

India Today
10/05/2018
An actress died on Wednesday after being bitten by a snake while playing a role of 'Ma Manasa'- goddess of snake. The incident took place in Hasnabad, West Bengal.
Kalidasi Devi, 50, enacts every year with a plastic snake, however, this time she opted to play the role with two real snakes.
The actress was bitten by snake during the performance. She was taken to a faith healer shorty after she collapsed, but the medications did not work. Later, she was rushed to the nearest hospital where doctors declared her dead.
The hospital doctors said that the patient's life could have been saved had timely medical aid been provided.
ALSO IN PICS: 15 of the most venomous creatures on Earth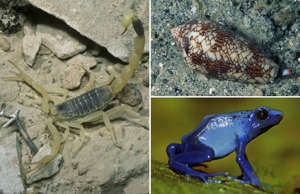 Police have detained members of the theater troupe.
Questions have been raised how performing with a live snake was allowed. Usually performers ensure that the snakes have their fangs removed before using them as live props.
Locals have demanded the arrest of the faith healer. Local forest officials have denied any knowledge of the incident, but promised to look into it.
Watch: Man has shocking technique for catching snake
(Video provided by BuzzVideos)