Comment: Dear Meghan, congrats on a brilliant Season 1 finale, but trust me, Season 2 will be a hundred times tougher if you start lecturing us about sexual equality from your servant-laden Palace

Daily Mail
21/05/2018
Video provided by Us Weekly
Dear Meghan, or should I say Dear Duchess,
First, congratulations on a stunningly successful wedding.
You couldn't have scripted a more perfect day, though of course, that's probably exactly what you did.
And frankly, who can blame you?
© Provided by Associated Newspapers Limited 'You couldn't have scripted a more perfect day, though of course, that's probably exactly what you did' What's the point in being a professional actress if you can't turn in an Oscar-winning performance for the biggest role of your life?

I loved it all.
Well, apart from David Beckham chewing gum in the chapel, obviously. Such grotesque and disrespectful impertinence in front of the Queen would have cost him his head during previous monarchies, and I'm not entirely sure it shouldn't now.
So it's fair to say that Season One of your new life ended in a spectacular triumph, with US TV ratings higher than those for William and Kate's wedding. (In Britain, ratings were down 30% but don't take that personally – William and Kate are going to be our King and Queen and you guys aren't.)
However, the real challenge starts now.
If you thought being a royal girlfriend was difficult, just wait until you see how hard it is being a royal wife.
This morning, you'll have awoken next to your handsome Prince at Kensington Palace, giddy with joy and hope – especially if your butler brought you the newspapers in bed.
The media that alarmed you by going so erratically off-message, and occasionally being downright offensive, as your romance progressed has now come together as one to sing your praises from the rafters.
It would be impossible to see all the ecstatic headlines and not get slightly carried away with one's own sense of self-worth.
© Provided by Associated Newspapers Limited Even your dimwit cannabis farmer nephew Tyler being caught with a knife at a London nightclub in the early hours of Sunday morning couldn't force your beaming grin off today's front pages.

But there was one banner headline that screamed a rather different message, and one that will have sent a shudder through many a Palace courtier's spine.
'MEGHAN MARKLE TO FIGHT FOR FEMINISM,' said the Daily Telegraph, Britain's most loyal royal paper.
Oh-oh.
I read on:
'The newly-wed Duchess of Sussex has been given the blessing of the Palace to use her position to fight for feminism as she plans for her life as the newest member of the Royal family.'
The official Royal Family website appears to confirm this, highlighting your belief that you are 'proud to be a woman and feminist.'
It adds: 'From a young age, The Duchess had a keen awareness of social issues. Aged 11, she successfully campaigned for a company to alter their television advert that had used sexist language to sell washing-up liquid. These early experiences helped to shape her lifelong commitment to causes such as social justice and women's empowerment.'
© Provided by Associated Newspapers Limited The official Royal Family website now highlights your belief that you are 'proud to be a woman and feminist' in your bio I remember discussing that very subject with you when we met for a drink in my local Kensington pub during the week you first met Harry.

You told me how you wrote to Hillary Clinton demanding she take action and how thrilled you were when the offending advertising agency changed the commercial's tagline which said 'Women all over America are fighting greasy pots and pans' to now say 'people' not 'women'.
'I've always wanted to make a difference,' you said, as you sipped your dirty martini. 'My parents always told me if I believed something was wrong to try to fix it.'
There was no doubting your genuine passion for this mission statement.
I saw it in your eyes that night and I read it in your words when we corresponded with one another.
A few months earlier, I'd emailed you after a mass shooting killed eight students at the Umpqua Community College in Oregon.
'What is it with your nation and guns?' I asked. 'Why does nobody ever want to do anything?'
'Shameful, I know,' you replied. 'It's so deeply controversial and brings up so many other issues; race relations, religious intolerances, etc – so since we can't solve each of those in one fell swoop, the logical solution would be to have stricter gun laws. And there is resistance. Even by the sheriff in that same little Oregon town. I'm not sure how you sleep at night with that over your head unless you fall into Trump's school of thought that it's not the guns but the mental illness. So then why give mentally ill people access to buy guns? Legally? It's just staggering. I wish more people would make a stand about it.'
I was impressed by such an articulate and thoughtful response about a cause very close to my heart.
Ironically, the day before your wedding, there was another horrific school shooting in Santa Fey that killed ten more students.
This prompted the New York Daily News to scream: 'They do royal weddings. We do schoolkids' funerals.'
I'm sure you would have liked to comment on that massacre, as you used to comment on many such news stories on your now deleted Twitter account.
But of course, now you're a royal, you can't.
Or rather, you can – but all hell would break loose.
'Meghan whacks Trump over guns' is simply not a headline anyone at the Palace can ALLOW you to create.
And therein lies the biggest problem facing you in your new life; every sinew in your newly regal body will be shaking with enthusiasm to tell the world how you feel about vitally important issues like gun control.
Yet you will very quickly discover, if indeed you haven't already, that it's impossible to go political as a member of the Royal Family.
© Provided by Associated Newspapers Limited You have been so outspoken in the past, but you will very quickly discover that it's impossible to go political as a royal And that brings me back to your intention to 'fight for feminism.'

On the face of it, this seems a perfectly rational objective for an intelligent, independent, successful woman who in many ways personifies the very ideals of feminism.
But I can guarantee you three things if you start poking this bear too loudly:
1) The Palace machine, still heavily under the influence of the senior royals, will get very twitchy very quickly – just as they did with Princess Diana.
2) That twitchy machine will begin to brief the media with anonymous voices expressing 'concern' at your activism.
3) The British public, fuelled by the negative media coverage, will soon start thinking, 'Oh stick a cork in it, Meghan, for goodness sake.'
This may all seem horribly unfair to you, but in truth, it's not.
The Royal Family has survived this long precisely because it doesn't do politics.
The Queen has reigned for more than 60 years but nobody has a clue what she thinks about anything.
© Provided by Associated Newspapers Limited The Queen has reigned for more than 60 years but nobody has a clue what she thinks about anything. Same with her mother
© Provided by Associated Newspapers Limited When Prince Charles does weigh in, he's ridiculed Her late mother, the Queen Mother, was equally taciturn, once famously articulating this perfect recipe for remaining beloved by the people: 'Never complain, never explain and rarely be heard speaking in public.'

Now, it's true that Prince Charles regularly fires off angry letters to politicians about issues, but it's also true that he gets roundly ridiculed for it.
And while William and Harry have talked a lot about mental health in recent years, they've always been very careful to be non-political in their campaigning.
They chose mental health because it affects everyone and is therefore not an issue determined by wealth or privilege.
The Princes can't be called 'hypocrites' for saying we should all take mental health more seriously.
Your chosen causes of feminism and equality are very different matters.
Let's be honest: there's nothing remotely feminist or equal about being a Duchess and living in a gigantic Palace.
You can't preach about everyone getting a fair shake when you yourself are getting the most prestigious, privileged and unequal shake imaginable, simply for getting married, to a man.
Suffragette leader Emmeline Pankhurst didn't fight for your right to wear a tiara to state dinners or have your liveried servants heat your cashmere water bottle at night.
So tread carefully, Meghan.
© Provided by Associated Newspapers Limited Tread carefully. You're now riding a tremendous wave of excitement and optimism because you didn't put a foot wrong At the moment, you're riding a tremendous wave of excitement and optimism.

But that's because you looked fabulous on your wedding day, didn't put a foot wrong, and married a very popular Prince.
If you now start lecturing us all on equality, while your servants fluff your gold monogrammed pillows and your chauffeur warms up the fleet of vintage Rolls-Royces, that well of goodwill may dry up faster than David Beckham's gum wherever he stuck it in the chapel.
And I can assure you that Season 2 of your new life will be a hundred times harder as a result.
Don't be too disheartened though.
There is no better feminist role model for you than the Queen who has spent a lifetime keeping her opinions to herself yet is the most respected woman alive.
Proof that when it comes to royals and politics, less is more.
Kind regards, Piers.
Pictures: Things to know about Meghan, Duchess of Sussex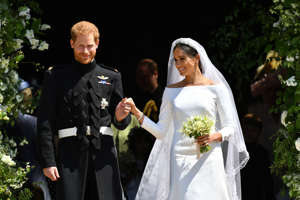 More From Daily Mail

Daily Mail