Why the Duchess of Sussex wasn't allowed to wear her hat at Wimbledon

Harper's Bazaar (UK)
18/07/2018
© Provided by Hearst Communications, Inc Why Meghan Markle couldn't wear hat at Wimbledon For her first appearance at Wimbledon as a member of the royal family, the Duchess of Sussex wore a blue and white striped Ralph Lauren shirt, along with a pair of crisp silk Ralph Lauren pants.
But there was one thing she wasn't wearing - her favoured hat.

Even though Meghan carried her hat throughout her trip to Wimbledon, she wasn't seen wearing it at any point. While she did don a pair of sunglasses, she simply carried the Maison Michel straw hat during the excursion, never putting it on.
© Getty Images The Duchess of Sussex carried her fedora as an accessory at the Ladies' Singles Final on 14 July The reason for this isn't to do with royal protocol, but rather the rules that Wimbledon has for attendees sitting in the royal box.
Related: Top fashion moments of Meghan, Duchess of Sussex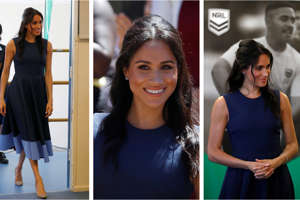 According to The Sun, "Spectators in the royal box have to follow a set of fashion rules, with guests being asked to dress smartly - and men advised to wear a jacket and tie."
And most importantly, anyone sitting in the royal box is "asked not to wear hats, in case it blocks the view of others around them."
This differs from other seating areas at Wimbledon, and as Meghan was sat in the front row of the royal box, sadly this meant that even the Duchess of Sussex wasn't allowed to put on a hat.
© Getty Images The Duchess of Cambridge and Duchess of Sussex watched Serena Williams play Angelique Kerber in the Ladies' Singles Final on 14 July Despite not wearing her signature fedora, the Duchess of Sussex and Duchess of Cambridge appeared to have a perfect day out together, the first without their husbands in attendance.
They spent the women's final laughing at one another's jokes, whispering to one another, and applauding Serena Williams' performance.
Related: Does Meghan Markle have a British accent? Watch and listen (Buzz60)