The greatest chases on screen

Photos
17/08/2016
Most of us remember the epic chariot chase sequence in the 1959 epic 'Ben-Hur'. Now, with the remake of the movie set to be released on August 19, we take a look at some of the best chase scenes in films.


© Silver Screen Collection/Getty Images The grandfather of cinematic chase sequences: an 11-minute chariot race with Messala (Stephen Boyd) and Ben-Hur (Charlton Heston) shrugging off the other racers and locking wheels in a win-or-die finale. Messala is the one to stumble, losing a wheel and then being run over and crippled by the other teams. Stuntman Joe Canutt came famously close to death during filming. 

The Great Escape (1963)

© Everett/Rex Shutterstock; Collection/Rex Shutterstock Steve McQueen's first appearance on this list, playing escaped POW Virgil "Cooler King" Hilts. His memorable leaps over barbed wire at the Swiss border as he tries to evade the pursuing Germans end in failure, just yards from the border, tangled in the wire. Sadly, it's not actually McQueen on the bike: stuntman Bud Ekins filled in, but McQueen was allowed to play one of the German motorcyclists in pursuit. Technically, he's chasing himself.
Bullitt (1968)

© Everett/Rex Shutterstock; Collection/Rex Shutterstock McQueen again in this legendary trawl up and down the hills of San Francisco in a beautiful Ford Mustang Fastback GT chasing another American classic: a Dodge Charger. According to director Peter Yates, McQueen was keen to keep his head near to the Mustang's open window so audiences would know it was really him driving. Bud Ekins, who stood in for McQueen in "The Great Escape," is actually the unseen driver of the Dodge. 
The Italian Job (1969)

© Collection/Rex Shutterstock; Everett/Rex Shutterstock Three patriotic red, white and blue Mini Cooper S's turn Turin inside out as Michael Caine and his cheerful cockney henchmen do their best to evade the carabinieri with £4million in gold bullion. Apparently many of the traffic jams in the chase sequence were real: the Italian authorities refused to close down the roads, so the team just went ahead and filmed anyway. 
Duel (1971)

© Collection/Rex Shutterstock Not a chase sequence so much as an entire movie. Steven Spielberg's feature-length debut features Dennis Weaver as a traveling salesman, in his nondescript Plymouth Valiant, menaced by the worst road-rage incident in cinema history: a tail-gating, fender-bending, homicidal diesel truck with a never-seen driver. Allegedly Spielberg chose a Peterbilt truck because its cab and grill reminded him of a menacing human face. 
Live and Let Die (1973)


© Collection/Rex Shutterstock; Everett/Rex Shutterstock Roger Moore's first Bond film has perhaps the best chase sequence in the series' long history, as what starts out as a powerboat chase through the Louisiana bayous then encroaches onto the freeway, destroying several deputies' cars in the process.
Westworld (1973)

© Everett/Rex Shutterstock A foot chase, this time, as Richard Benjamin and James Brolin (above, left) are pursued through the futuristic theme park of the title by Yul Brynner's implacable and malfunctioning robot Gunslinger. It's not hard to detect early echoes of both "Jurassic Park" (both were written by Michael Crichton) and "The Terminator" here.
Smokey and the Bandit (1977)

© Everett/Rex Shutterstock The first of the series (even Burt Reynolds refused to star in the third instalment, although he does have a cameo) in which redneck truckers band together to outwit Texas' finest with nothing but a black Trans-Am and a CB radio. Most of the movie is one long chase sequence, building up to the chaotic finale where "Snowball" (Jerry Reed) smashes through a police roadblock to get to Lakewood Speedway and deliver his cargo of bootleg Coors beer.
Indiana Jones and the Temple of Doom (1984)

© Collection/Rex Shutterstock The Indiana Jones series has some classic chase sequences – the horse-to-truck chase in "Raiders" and the horse-chased-by-a-tank sequence in "Last Crusade" – but this fantastic mine-cart section in "Temple of Doom" just takes the prize. Spielberg is quite brilliant in his management of verticality as the rails shift up and down, adding a third dimension to the chase. 
The Terminator (1984)

© Collection/Rex Shutterstock The last 20 minutes of this seminal sci-fi horror is all chase, featuring truck, motorcycle and oil tanker. But it's the last few scenes, with an injured Linda Hamilton crawling on hands and knees away from a shattered but still lethal Terminator skeleton, that really freeze the blood.
Back to the Future (1985)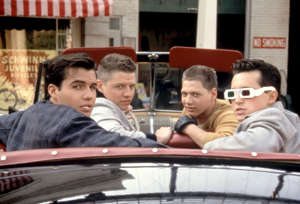 © Everett/Rex Shutterstock A joyful romp through the streets of 1950s Hill Valley with Michael J. Fox inventing the skateboard in the process. It was poor Biff's (Thomas F. Wilson) first violent encounter with a truckful of manure, but certainly not his last.
Terminator 2: Judgement Day (1991)

© Collection/Rex Shutterstock Bigger and far brasher than the original, this colossal blockbuster has some fantastic extended chase sequences but none of them top this one. The young John Connor (Edward Furlong), chased through an L.A. drainage channel by the impassive T-1000 (Robert Patrick) in a truck rig, is then lifted from his dirt bike onto Schwarzenegger's Harley Davidson. Arnie brings it to a spectacular conclusion as he shoots out the truck's tire, causing it to crash into a concrete abutment and explode.
Point Break (1992)


© Collection/Rex Shutterstock This fantastic pursuit starts out in cars but, after FBI agents Keanu Reeves and Gary Busey's sedan is crippled, Reeves carries on on foot and takes advantage of an unscheduled stop by the fleeing back robbers to tackle the leader (Patrick Swayze) to the ground. What follows might just be the best on-foot chase ever screened, as the pair cut through suburban L.A. houses and back yards: at one point a dog gets pressed into service as a delaying tactic.
Ronin (1998)

© Collection/Rex Shutterstock The first big chase in this taut, gripping thriller is the best. Following an ambush, Robert de Niro and Jean Reno's mercenaries chase a group of gangsters in an attempt to hijack a mysterious briefcase. The chase, through the twisting streets of Nice and along the bright, sunlit French Riviera, uses a bewildering mix of close-up and fast tracking shots to deliver a really claustrophobic, breath-taking sequence.
The Matrix Reloaded (2003)

© Simon Roberts/Rex Shutterstock; Collection/Rex Shutterstock It might not have been as acclaimed a film as its predecessor, but this sequel from the Wachowskis can boast a truly remarkable 12-minute freeway chase, both with and against traffic, as Carrie-Anne Moss and Lawrence Fishburne attempt to get the Key-Maker (Randall Duk Kim) away from the villainous and physics-defying albino Twins (Neil and Patrick Rayment) and the usual black-suited Agents. Characters leap from car to speeding car, a Ducati is stolen from a transport truck and driven off it as Fishburne fights hand-to-hand on top of a speeding oil tanker. Mind-blowing from start to finish.
Casino Royale (2006)

© Snap Stills/Rex Shutterstock A great opening action scene from Daniel Craig's first outing as Bond, as he chases real-life Parkour pioneer Sebastien Foucan through the Madagascan suburbs and onto a building site before running him to ground at the embassy of an unspecified African nation.
The Dark Knight (2008)

© Everett/Rex Shutterstock; Snap Stills/Rex Shutterstock Outstanding stuff from Christopher Nolan's Batman series. With Gotham PD escorting DA Harvey Dent (Aaron Eckhardt) to jail and Heath Ledger's Joker doing his best to make sure that he meets his maker en route, the resulting chase involves armored police wagons and cruisers, articulated trucks, police helicopters and – naturally – the Batmobile, which is destroyed in the process and transformed into the stripped down Batpod motorbike.