The Friends Scene That Was Banned Around The World
Refinery29
16/09/2017
Many people pride themselves on being able to recite
Friends
line by line and recall obscure trivia about the beloved show. While you may be au fait with the fact that Marcel was played by a white-headed capuchin monkey named Katie, and that the creators originally wanted Courtney Cox to play Rachel, did you know that one crucial scene was banned around the world, including in parts of the US?
Jane Sibbett and Jessica Hecht, who played Carol and Susan in the show, were reunited on ITV's Lorraine yesterday and revealed that their characters' lesbian wedding scene from season 2 in 1996 was banned in parts of the world – including Ohio and parts of Texas, i100 reported. KJAC-TV network in Port Arthur, Texas and WLIO in Lima, Ohio cited 'objectionable content' when explaining their reasoning.
"It was the first lesbian wedding to ever be shown on TV and they blocked it out in some affiliates," Sibbett said. "But it all worked out as we got so much press because they blocked it. We actually won awards for that storyline." The actors went on to accept awards on behalf of the show for its representation of LGBTQ issues.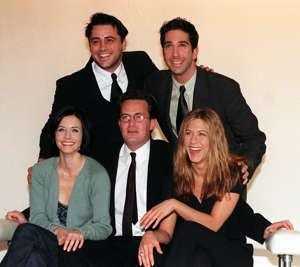 © catalyst "I remember meeting a man at one awards ceremony that was held by an organisation that works with gay families," Sibbett continued. "He said to me that if he'd had Carol and Susan as role models when he was a young boy, he probably wouldn't have tried to [die by] suicide so many times. I hadn't even thought of that."

The Cast of Friends: Where Are They Now? Related: The Cast of Friends: Where Are They Now? (Provider People)
Friends writer and producer Marta Kauffman spoke about the incident in an interview with The Hollywood Reporter last year. "When we did the lesbian wedding episode of Friends, everybody was up in arms," she said. "[NBC] put 104 operators on for fear of getting a million phone calls. They got two. A month later, they got the letters, but nobody called."
Carol and Susan from #Friends haven't aged a DAY! #FriendsFestpic.twitter.com/2qOsuA5CHM

— Lorraine on ITV (@ITVLorraine) September 14, 2017
Considering the fact that same-sex marriage didn't become legal in all US states until 2015, it makes sense that "The One With the Lesbian Wedding" caused such controversy in the '90s. The world remains a dangerous place for the LGBTQ community, but it's hard to imagine the scene would receive as strong a backlash from TV networks today.