You Won't Belive What The Classmates Of These Bollywood Celebrities Confessed About Them

Desimartini
08/08/2018
One of the best ways to know about a person is to ask their old classmates and schoolmates as our classmates are the one who really know our personalities the best. Although our Bollywood stars are now at a position where they seem dreamy and uttainable, at one point they were also regular kids going to schools and colleges and doing the usual teenage stuff and thus people who went to school or college with them can give us an insight into their personality that we never knew existed.
Here are a few Bollywood celebs whose classmates had some really interesting things to say about them.
Parineeti Chopra

In one of the very few controversies that Parineeti Chopra has been a part of this was the biggest. During the launch Akshay's self defence drive for women, Pari who was present at the event talked to the media about how she did not have a very affluent childhood and had to cycle to her school everyday. One of her classmates was called her out on the bluff and wrote an open letter saying that Pari's family owned a car and coming to school on a cycle was a trend back then that only privileged kids could afford.
Mira Rajput
At a women's summit, Shahid Kapoor's wife, Mira Rajput made a rather controversial statement that angered many women. She said she chose to be a homemaker because she wanted to be there for her daughter Misha and that she was not a puppy who she could just leave at home alone and go work outside. This sparked a outrage among women who were balancing career and motherhood. Angry at her insensitive comment, one of Mira's ex-classmate from college wrote a seething open letter. She wrote, "Having watched your interview, I feel extremely enraged today. I've spent three years in the same college and batch as you. I can say today with confidence that your idea of feminism is extremely flawed. Seeing you walk around with your posse in college, belittling women who were not skinny enough or did not subscribe to your fashion 'standards' makes me wonder what you ever did to have a moral high ground over anyone at any point. Your narrow world view is astounding to say the least. And not to forget, how your statement about working mothers takes us years back in reaching actual empowerment of which you seem to know nothing."#burn
Aishwarya Rai Bachchan
Very few people know that Aishwarya Bachchan studied at Delhi's famous Hindu College before she made her entry into the world of modeling and eventually Bollywood. One of her classmates from college said that she prone to coming late to the class and always took the last bench. She also added that it was their Physics teacher who encourage Aishwarya to take up modeling and it was only in Physics class that Aish would occupy the front bench to please the professor.
Twinkle Khanna
On quora one of Twinkle Khanna's classmate shared a rather interesting incident about Mrs. Funnybones. The guy who went to the same school as Twinkle Khanna and Karan Johar went to in Panchghani and recollecting those memories said, "I studied with Twinkle Khanna or Tina as she was called in standard nine at New Era High School, Panchgani. I will never forget an incident when she got up to give her maths (answer sheet to a guy in the middle of the standard ten board examinations.One of the exam invigilators caught both of them in the act and in panic, Twinkle nearly tore her answer sheet. However, the invigilator knew who she was and let her off with a warning."
In pics: Bollywood celebs and their previous jobs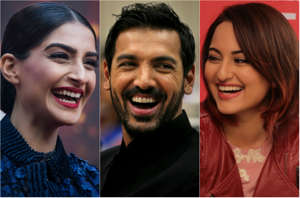 Also watch: Amitabh Bachchan to Join Aishwarya & Abhishek's Gulab Jamun?
(Video by Dailymotion)