Baahubali 2: This is SS Rajamouli film's biggest failure

The Indian Express
06/05/2017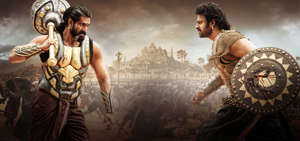 Baahubali 2 is a visual treat and an embodiment of why you watch movies. Films give you a ticket to a different world, but it doesn't really allow you to get lost in that world. Even as those stunning visuals hold your attention, your five senses busy in grasping the minute, infinitesimal details on screen, you find your heart slipping out and walking away. And hereby lies the problem with Baahubali 2.
While SS Rajamouli is able to instil a sense of wonder and awe in you with his imagination, you silently wish the film could speak to you, hold your hands and whisper in your ears. This is not to say that film doesn't engage you. SS Rajamouli has poured out his heart in each and every scene. You cherish his movie for visuals and grandeur. But are visuals and grandeur enough for a story to take a flight? Or are they just glittering items to decorate a story? There is no other way to say it that SS Rajamouli film lacks heart and soul. You wish there could have been more heart in SS Rajamouli film.
The problem, of course, begins with our expectations. Baahubali 2's familiarity becomes its disadvantage. All that was novel in Baahubali 1 including Mahishmati kingdom, the gigantic palace and all characters grow a bit stale in the second part. They are served with extra garnish. That's about it. The second part has little to explore. The film introduces you to Devasena's kingdom. You see visuals of war tactics but find a sense of familiarity there too. Still, the film takes flight through Rajamouli's original, innovative imagination. And you silently pay your gratitude to that originality of thoughts. The sad part is that originality comes in parts and ceases to become whole. Only in a Rajamouli film, a man and a woman can fall in love while taking on an army of the enemy, a swan-like ship can grow wings and fly and palm trees can be used as weapons. Rajamouli's genius forces you to take a note of his mind and craft. The film revels in Rajamouli's brilliance.
While SS Rajamouli's efforts are visible in visuals, you sense a lack of the same in the narrative. The sub-plots need more conviction. Some scenes feel too contrived. The plot is a bit flat and weaker. And by the time you get to know why Kattappa killed Baahubali (which finally happens after two long hours), even that is an expected end to what was once a bold cliffhanger. Baahubali 2 is sugar-coated with moral values of courage, loyalty and 'dharma', but struggles to find an anchor.
The film, as I understand it, wants us to marvel at Baahubali – a true warrior, a son and a saviour of Mahishmati. We do marvel at Baahubali and his desi swag. You can't take your eyes off Prabhas and Rana Daggupati. Both actors steal the show with their screen presence. They haven't wasted a single second of their limited time on screen. You watch them greedily, trying to capture their well-toned bodies in your mind. And they stay with you for a while.
SS Rajamouli wants us to be impressed with Baahubali. And we do get impressed. But what happens next? Can you take these characters home with you? Can you discuss them all day long like your favourite stories? The purpose of any fantasy work is not just to impress a viewer, but also to surprise him. Baahubali 2 might impress you but has little elements of surprise. That's the failure of the film. It fails to surprise you. As viewers, we want to be entertained and engaged. But, we also silently wish a film (or a cinematic experience) to move 'something' inside us.
Before we start comparing Baahubali 2 with Hollywood franchises, take a moment to observe what a Harry Potter, a Lord of the Rings or a Game of Thrones (we know it's unfair to compare Baahubali 2 with these iconic works of fantasy, but why not, aren't we competing with the world?) does to your eyes as well as to your soul. They just don't stir your senses, but move mountains inside you. Or for that matter, revisit classic tales of Ramayana and Mahabharata (when there was still some quality on TV). Is SS Rajamouli film just another masala film on a grander scale? Maybe.
While watching Baahubali 2, I didn't find a single note of emotion within me. Did I cry? No. Did I laugh out my heart? No. Was I amazed? Oh, Yes.
SS Rajamouli film holds several lessons for Indian film industry. It's a giant step towards growing our own world of fantasies. But, is Baahubali 2, a better storytelling also?
The challenge for Indian movies, in future, will not be about getting technology or finance. The challenge (as it's now) will be to 'imagine' and think 'original'. What if Baahubali 2's story of a kingdom would have been more fascinating than its stunning visuals? That could have been another story. Right now, let's wait for an Indian movie that will make you say: What an idea, Sir Ji?
(Video provided by Wochit Entertainment)