Holi festival was the day the world got Rajinikanth. Read the full story here

The Indian Express
13/03/2017
Superstar Rajinikanth was born as Shivaji Rao Gaekwad in Karnataka. Before his name became a synonym for success, wealth and stardom, he had his own share of struggles and failures to endure. Everything in his life changed forever when he acquired his mononymous stage name, Rajinikanth.
Legendary filmmaker K Balachander has a lion's share in the success story of Rajinikanth. It is only fair to say that without the schooling that Rajinikanth received from KB during early days of his career, he would not be where he is today. He didn't just cast him in films that shaped his superstardom, but he also rechristened Shivaji Rao Gaekwad as Rajinikanth.
In 2010, the Tamil Nadu Director's Association held a grand event to celebrate 40 years of its inception and it was attended by almost all the leading stars of the Tamil film industry. Balachander interviewed Rajinikanth as part of celebrations and they both got nostalgic. "Do you remember when did I name you Rajinikanth?," Balachander asked Rajinikanth. "It was a full-moon day. Holi festival," pat came the answer from the Thalaivar.
"You used to meet me in person or call me if you were out of town on the Holi festival. But you don't do that anymore," rued Balachander in a lighter vein. To which Rajinikanth apologised saying, he got really busy even as he promised to call him on the day of the festival thereafter.
"But, I never forgot. Every year when I read about Holi festival in newspapers, I feel proud that I was instrumental in introducing such a big star in the film industry," he said during his conversation with Rajinikanth. It is, indeed, a special day for Rajinikanth and his hundreds of thousands of fans worldwide.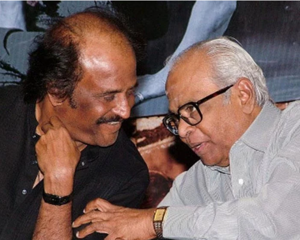 © Indian Express Balachander introduced Rajinikanth in a minor role in his 1975 film Apoorva Raagangal, and the rest is history. In 2014, Balachander died due to complications from the urinary infection and age-related ailments. 

On the work front, Rajinikanth is currently busy with the shooting of his upcoming sci-fi film, 2.0, a sequel to his 2010 blockbuster Enthiran. The shooting of the film is almost over with just a song and a few patchwork remaining.
The film is being made on a massive budget of about Rs 400 crore and is gearing up for a Diwali release. The film also marks Bollywood star Akshay Kumar's debut in Tamil, while Amy Jackson also plays an important role in the film.
Recommended: Akshay Kumar's ferocious look from "2.0"