Who is Baahubali? What is his story?

The Indian Express
18/03/2017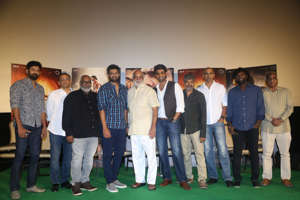 Wondering why the whole of India, and many other parts of the world have gone crazy about the launch of Baahubali 2 trailer? Do you feel left out when 'Why Kattappa Killed Baahubali' jokes are cracked around you and memes invoking the two land on your social media? Have you heard of SS Rajamouli's Baahubali franchise but can't figure out the adjectives it comes attached with? You have seen Prabhas and Rana Daggubati's ferocious transformation for Baahubali 2 and are non-plussed? Wondering why people have already marked April 28, 2017, Baahubali 2's release date, in their calendars? Here are all the answers to Who is Baahubali and why Baahubali 2 is such a big deal.
© Provided by Screen The Kingdom of Mahishmati is ruled by queen Sivagami (Ramya) who is married to Bijjaladeva (Nassar). She takes charge of the kingdom when Amarendra Baahubali's (Prabhas) mother passes away during labour. She takes care of Amarendra like her own son and ensures that he is brought up with the ability to rule the kingdom one day. Amarendra Baahubali also has a cousin brother Bhallala Deva (Rana Daggubati) who is Sivagami's son by blood. With two sons and one kingdom to rule, Sivagami decides to test both her sons. She challenges them to win the upcoming war against the Kalakeyas and promises that whoever is victorious will be crowned the king.

Though it was Bhallala Deva who kills the king of Kalakeyas, Sivagami announces Amarendra to be the winner of the challenge because of his leadership skills and his ability to empathise with his subjects. nHowever, what happened after this to Amarendra Baahubali is a mystery. Except for the fact that the loyal lieutenant of Mahismati, Kattappa (Sathyaraj) killed Baahubali.
We also know that Amarendra Baahubali fathered a child with his wife Devasena (Anushka Shetty). It can be assumed that Bhallala Deva, in his greed for the throne tried to kill not only Amarendra but his son as well. Sivagami, his mother, however, sacrifices her life for that of Amarendra Baahubali's son, Mahendra Baahubali.
She emerges from a cave and makes her way to a village at the foot of the hill, where people see her jump in the river holding the baby high above the water. They save the baby, name him Shivudu. The mother who adopts him, Sanga, prohibits him from climbing the mountain. However, the curious child tries his best to see what lies atop the mountain. He doesn't know that he is a child of the royal family or that his mother is chained by his uncle in the palace.
He grows up to be a young man, who falls in love with Avanthika (Tamannaah). It is when he meets Avanthika, a rebellious warrior who is on a mission to save Devasena, that the secret of his life is revealed to him. Initially, he becomes a part of the mission to not lose Avanthika. However, when he is successful and frees Devasena from the clutches of Bhallala Deva, Kattappa follows him and comes to realise that Shivudu is, in fact, Amarendra's son.