EXCLUSIVE Bigg Boss 10 evicted contestant Mona Lisa says she did not deserve to win

The Indian Express
23/01/2017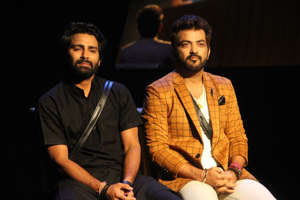 Bigg Boss 10 - January In her otherwise uninteresting, insipid stay inside the Bigg Boss 10 house, the two occasions that Bhojpuri actor Mona Lisa caught the audience's attention were during her link-up with fellow contestant Manu Punjabi and her marriage to boyfriend Vikrant Rajpoot on national television. But Mona, freshly evicted from the controversial reality show, would prefer being called inconspicuous rather than speculated about her personal relationships, which she maintains were never for the cameras.
In an exclusive interview with indianexpress.com, the simple and shy actor spoke about the criticism she is receiving for her hyped wedding on the show, her much-talked about friendship with Manu and why she doesn't find herself deserving enough to be the winner of Bigg Boss 10.
I can never think of faking my marriage
Mona's boyfriend of eight years proposed to her on Bigg Boss 10, and the couple tied the knot on the show, in the presence of few family members, celebrity friends, co-contestants, and of course the audience, which saw the her marriage ceremonies on their screens. This wasn't a first in the history of Bigg Boss. Sara Khan and Ali Merchant had also got married on the show during its fourth season, but the two later annulled the wedlock calling it 'staged.' It was but natural for the audience to think the same and remain sceptical about second such wedding on the show. Mona, however, said the marriage proposal was as much a surprise for her as for the viewers.
"I could never think that Vikrant would propose to me on Bigg Boss. Of course, we had decided to get married in the near future but this was a total surprise. Marriage is one of the most important things for a woman, being married is a special feeling. So, I can never think of faking it. Bigg Boss gave me a gift in the form of our wedding on the show itself. I am the happiest right now. But when people say things like it was scripted or done for TRPs, it is disheartening. Vikrant and I are not such people, who would indulge in these things for the sake of it."
I wish Vikrant had trusted me
The fact that Vikrant had an issue with Mona and Manu's closeness was not hidden. He had made it clear quite early, when he was invited to the Bigg Boss house for a task. Also, in his interview to indianexpress.com, Vikrant said that their marriage on the show is a way to silence the rumours about Mona and Manu's bond. Though now she is happily married to him, Mona said it would have been better had Vikrant not got insecure regarding her as it hurts more.
"I wish Vikrant had not felt insecure. I am an actor and I go for month-long shoots to outdoor locations. There also, I hang around with my co-stars. But I wasn't questioned then. So, I do feel Vikrant must have had thought about from this perspective but because the episode is only of 45 minutes, he got a misunderstanding. Had he been inside the house, he would have never felt this," the actor said.
Mona added that speculation about her and Manu, who also has a girlfriend, was bothersome. "It used to bother me a lot because Manu and I have a genuine friendship. We both knew what we share so, what people used to speculate never made sense to me." When informed that her housemates were the first ones to discuss their friendship, Mona appeared shocked and remarked, "If my friendship with him is questionable, then so are all other friendships in the house. We all know people used to roam around in pairs only, so, will they say those equations were also something else?"
In fact actor Rahul Dev, post his eviction, claimed that Mona and Manu faked closeness to survive inside the house. To this, Mona said, "That's so weird! So, did he also create something to survive? By this logic, everyone is fake and created some angle to stay in the house. And how could Manu and I be so sure that our so-called angle would work with the audience. What if they didn't like it and eliminated us earlier itself! Our friendship was all natural and organic. In fact, Manu, Manveer and I were thick friends. We used to eat together, always be around each other, just like normal friends are."
Manu never used me
Many in the audience felt that Manu often took Mona for granted and had a friendship of convenience. But Mona begged to differ. "I never felt Manu used me or my friendship. There were many times when he sacrificed to save me. I can cite many instances. Once, he had to burn the doll Piku (Manu's girlfriend) gifted him, just so that I could be saved from nominations. Our admiration and friendship were mutual."
Either Manu or Manveer should win
As a close friend, Mona has her top two Bigg Boss finalists set. "I want to see either Manu or Manveer win. Of course, I feel all the five contestants are deserving but I would prefer either of them because I am close to them. I would be very happy to see them holding the trophy," she said, adding that she never understood how the Bigg Boss game should be played and hence considers others more deserving of the win.
Biggest task inside the house is to kill time
Mona said that she felt gloomy and lonely for most of her stay inside the house, and the only respite used to be meeting the show's host superstar Salman Khan on weekends and other celebrity guests, who promoted their films on the show. "The biggest task on the show is to pass time. You have no family or friends and nothing to do. I used to cry so much. I didn't understand the game the way others did. They knew how to play it. I am not cut out for shouting, screaming and bitching, which used to happen in the house. So, I never thought I would come this far. It feels like an achievement."
More from The Indian Express Entertainment

The Indian Express