Stay informed with the Microsoft News app
Microsoft News official apps for iOS, Android and Windows 10 are free and will keep you up to date with the latest and most important news on the platform of your choice. With breaking news alerts, you can makes sure you never miss the big news of the day, and you can personalize your feed to ensure you see what matters most to you.
We believe in the power of combining human and machine curation. Our dedicated local editorial teams select the top articles you need to know, while Microsoft's AI technology ensures we have the news covered from every angle, even down to your individual interests. 
We partner with Gulf News, Khaleej Times, Gulf Business, Arab Times, Saudi Gazette, Arab News, Arabia Post Wire, StepFeed, What's On, and many other local and regional providers. Our international partners include BBC, The New York Times, Washington Post, The Guardian, India Today, Reuters, and many more, ensuring our news coverage is always comprehensive.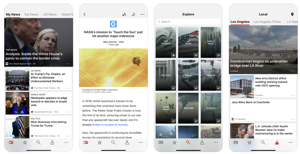 Features of the Microsoft News app
Select your interests in My News so you always see stories that are relevant to you
Receive breaking news notifications
Add our widget to the home screen of your iOS or Android device for easy access to breaking news
Choose a light or a dark theme to suit your preference