Elon Musk found not liable for damages in 'pedo guy' case

New York Daily News
06/12/2019
Elon Musk was found not liable for damages Friday for branding a British cave explorer a "pedo guy."
Plaintiff lawyer L. Lin Wood said had asked the jury to find Musk liable for $190 million saying Musk's tweets detonated a "nuclear bomb" in Vernon Unsworth's life, leaving him no choice but to sue the "billionaire bully" to recover his reputation.
Wood urged the jury of five women and three men to award Unsworth $5 million for real damages, $35 million for assumed damages and $150 million for punitive damages.
He said the punitive portion is critical to "discourage" Musk and "make him think twice" before repeating his behavior again.
But the jury ruled in favor of the Tesla titan, taking just 50 minutes to decide.
Earlier Friday, Musk, 48, listened quietly to the lengthy closing argument with his hands folded on a defense table just inches from Wood. He mostly stared straight ahead but at times furrowed his brow, making it clear he didn't agree with the presentation.
"You can't start policing speech," Musk's lawyer Alex Spiro told the jury in his closing.
Spiro stressed Musk didn't include Unsworth's name in the "pedo guy" tweet and claimed "no one on earth" believed Musk was actually accusing Unsworth of pedophilia.
Unsworth, 64, sued Musk for libel, claiming Musk's tweets left him feeling "humiliated" and "isolated" after he helped rescue 12 boys and their soccer coach from a flooded cave in northern Thailand last year.
Musk fired off the tweets after Unsworth said in a CNN interview that he considered the mini-submarine Musk and his engineers built to help facilitate the rescue "had absolutely no chance of working" and was "just a PR stunt."
"He can stick his submarine where it hurts," Unsworth told CNN in the July 13, 2018, on-camera interview.
Wood called Musk a "liar" for claiming his "pedo guy" tweet two days later on July 15, 2018, was an "off the cuff" insult not meant to be taken literally.
"By his own admission, (he) went out and searched Vernon Unsworth on Google," Wood said.
Musk determined Unsworth was a British ex-pat living in an area of Thailand "known for its reputation of child sex trafficking," Wood said.
"Insults are not researched. He researched," Wood said.
Related: 18 things to know about billionaire entrepreneur Elon Musk (Photos)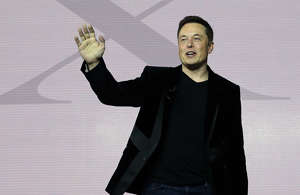 Wood listed several other times he believes Musk "lied" but said the "biggest lie of them all" was "when he told the world that Vernon Unsworth was a pedophile. That was the biggest lie of them all."
He said while Musk will go home from the civil trial in Los Angeles Federal Court and continue running SpaceX and Tesla and enjoying his vast $23 billion fortune, Unsworth remains uncertain what his future holds.
The lawyer likened that unknown to the fallout from a nuclear explosion, saying the "pedo guy" designation, while false, is something that traveled around the world in news reports.
"He can't touch it, can't see it, but it creates a tremendous amount of emotional distress," Wood said.
Maybe it will be the thing that stops him from getting a "new job" or forging new relationships later in life, the lawyer said.
"He should move past this and stop trying to monetize the kids in that cave," Spiro said of Unsworth, comparing Wood's request for $190 million in damages to a scene from the TV game show "The Price is Right."
In pictures: Trump's trouble with directions and other top photos of the week [Photos]
Our Christmas Together Appeal proudly supports Age UK and The Children's Society who are providing vital services to society's most vulnerable this festive season. Because no one should feel alone. Together we can make a big difference. Join us here.