Bushfire emergency: Warning for Balingup and homes threatened near Nannup, Bridgetown

ABC News
20/02/2019
Two houses have been destroyed and machinery lost to an out of control bushfire that is threatening lives in an area popular with holidaymakers in the Shires of Donnybrook-Balingup and Nannup.

© ABC News Two houses have been destroyed and machinery lost to an out of control bushfire that is threatening lives in an area popular with holidaymakers in the Shires of Donnybrook-Balingup and Nannup. An emergency level warning remains current.
At a community meeting held at Nannup today, Department of Biodiversity, Conservation and Attractions (DBCA) representatives said two homes and four harvesting machines had been lost in the blaze.
The fire, which was first reported on Tuesday afternoon, has burnt through 2,200 hectares in an area bounded by state forests that is home to farms and holiday accommodation.
The emergency warning applies to an area bounded by Cundinup-Kirup Road and Ferndale Road, Hay Road, Southampton Road, Millstream Road, Barker Road, Spur Road, Matterhorn Road and Cundinup-Dudinyillup Road in parts of Southampton and Cundinup.
A watch and act warning is also current for people in an area bounded by Vasse Highway, Cundinup-Kirup Road, Jarrahwood Road, Claymore Road, Upper Capel Road, South West Highway, Maranup Road, and Brockman Highway in parts of the shires of Donnybrook-Balingup and Nannup.
This includes parts of the town of Balingup.
The number of firefighters battling the blaze has doubled to 180, with support from aerial tankers.
An evacuation centre has been set up at the Nannup Recreation Centre.
© Supplied: Jessica Jane DBCA is investigating whether machinery started the blaze. 'Crews will be here for a long time'
DBCA information officer Drew Griffiths said the fire was still uncontrolled and uncontained.
"The fire yesterday spread very quickly," Mr Griffiths said.
"There was one report that it covered 1,500 hectares in four hours — which is very fast. It is in very steep country. But today it is moving slowly and in a west, north-westerly direction.
"It has been reported that two houses may have been destroyed and also reported that four timber harvesting machines may have been destroyed but they are still to be confirmed.
"Fire crews will be here for a long time — we're talking about over a week at least — even once the fire has been contained.
Shire of Nannup chief bushfire control officer Robin Mellema said crews faced a number of challenges overnight.
"Initially it was the speed of the fire when it was going through the grass areas, there was the heat of the fire," he said.
"Then after that it was a matter of making sure that we were doing our job as far as keeping everyone else in the community safe and looking after the assets.
"There are people who are staying in their homes. They've chosen to stay and defend."
© Supplied: Linda Morton Linda Morton says she will stay and defend her property and horses near Balingup as the bushfire approaches. Machinery suspected to have sparked blaze
The DBCA said the fire started near Radiata Road in Southampton and it was investigating whether machinery started the fire.
"We believe that it may have been a machine that was operating in the plantation, but that's under investigation at the moment," spokesman Paul Roberts said.
He said the fire was being fanned by easterly winds of up to 30 kilometres per hour ahead of a forecast south-westerly change in the afternoon.
"We're still a little worried about the north-eastern side of the fire with those changing south-westerly winds," he said.
He said there was more private property on the north-eastern side, as well as a nature reserve.
"People should be actively monitoring their surroundings and enacting their bushfire survival plan," Mr Roberts said.
The Department of Fire and Emergency Services (DFES) is warning residents that burning embers may be blown around homes.
Resident 'confident'
Linda Morton-Sharp lives 1.5 kilometres from the fire on Nannup-Balingup Road and said she was staying to defend her 120-acre property.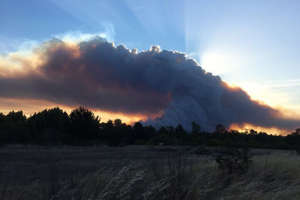 © ABC News: Sebastian Neuweiler More than 90 firefighters are tackling the blaze. "There's a lot of smoke, it's quite windy here. I can hear the bombers over just behind our house," she said.
"We've got pretty good resources. We've got fire units here, there's a couple of trucks that have come here already, we've got a lot of green grass around our house and our stables, retic in our paddocks so even if we lose power everything stays wet.
"We don't have neighbours, we have a lot of bush on one side that is a bit of a worry and we have winery on the other side where no one actually lives, so we're kind of the only ones here."
Ms Morton-Sharp said she was "confident we will be fine".
Nannup resident Simon Camp said he planned to stay and defend his property.
"It has been concerning. There's a fair bit of bush between us and the fire but given the terrain and potential if it heads our way then we're going to be in a bit of strife," he said.
"I am going to be staying and defending. I'm an ex-firefighter.
"I've seen it happen before — it's always pretty devastating for the families and a traumatic experience for everybody."
A number of roads are closed in the area, and authorities are urging motorists to reduce speed, and drive carefully due to smoke.
The Bibbulmun Track is also closed between Spring Valley Road and the Southampton Bridge, and the Blackwood Campsite and Wrights Bridge Recreation site are also shut.