Commonwealth Games athletes from Rwanda, Cameroon, Uganda missing

ABC News
12/04/2018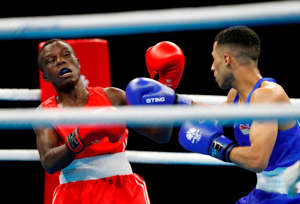 © ADRIAN DENNIS/AFP/Getty Images Cameroon's Simplice Fotsala (red) is one of those missing The Commonwealth Games Federation has confirmed there are reports Rwandan and Ugandan athletes are missing from the games along with eight from Cameroon, while they also investigate the whereabouts of two squash players from Sierra Leone.
Chief Executive Officer David Grevemberg said they are investigating the reports.
"I wouldn't want to be speculative on the Sierra Leone [athletes] at this time," he said.
"We're obviously looking at that very carefully."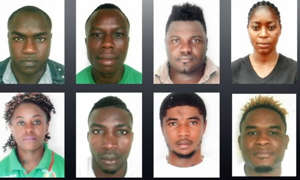 He said the athletes' visas will expire on May 15.
"I think we have a service to people who have legitimate visas to be in this country," Mr Grevemberg said.
"Until it becomes a true issue, if somebody has outstayed their visa welcome and provisions or has formally applied for asylum I would say that we just need to continue to monitor situation and see how it manifests."
Mr Grevemberg said 22 Cameroonian athletes were sent home, while those who are yet to compete will remain here until after the closing ceremony.
There are 24 athletes on Cameroonian team.
"We obviously have been in close contact with the Cameroonian Commonwealth Games Association," he said.
"We share their concern regarding obviously the safety, welfare, whereabouts of these athletes.
"Our focus right now is supporting the teams and the chef de missions and their administrative teams to do what they can do to try and track down those athletes that are missing."
The Cameroon Commonwealth Games team has rejected suggestions the majority of their athletes have left the country.
A team spokesman said this morning 12 basketballers and two weight lifters who had finished their competitions had flown home, but others remained on the Gold Coast to compete in the wrestling events today and in boxing tomorrow.
He said Cameroon would be at the closing ceremony on Sunday night.
Police said none of them had been reported as missing and police were not searching for any athletes.
They said their absence was a matter for the Cameroon team. Prominent barrister Julian Burnside said the athletes' visas "could in theory include terms that they have to be present at the Games Village every day, and so on".
In January, the United Nations revealed more than 15,000 refugees had fled Cameroon amid a crackdown on English-speaking separatists.
Mr Burnside said the Cameroonian athletes could apply for asylum in Australia but they would risk a lengthy stay in detention if Border Force cancelled their existing visas.
"[It is] really very difficult to work out what criteria are used in deciding whether or not a person will be allowed to apply for asylum and whether or not they'll be given a bridging visa in the meantime," Mr Burnside said.
A statement on Wednesday from the Chef de Mission from Team Cameroon, Victor Agbor Nso, said the eight athletes had left the Games Village in three waves.
Three athletes left the village on the night of April 8, two others were declared missing on April 9, and three more had left their rooms on the night of April 10.
Six of the athletes had finished competing in their respective competitions while the other two — boxers Ndzie Tchoyi Christian and Yombo Ulrich — left without competing.
An Australian Border Force (ABF) spokesperson said in a statement today that the Australian Government had been "working closely with the organising committee and international stakeholders to ensure Commonwealth Games officials and athletes were aware of their visa responsibilities".
"Like other visitors to Australia, Commonwealth Games visitors who hold a valid visa, are free to enjoy their stay in Australia," the spokesperson said.
"However, Commonwealth Games visitors who do not meet their visa requirements can expect to have their visas cancelled — the department does not comment on individual cases."
Commonwealth Games Organising Committee chairman Peter Beattie said the athletes should stick to the visa rules.
"The rules and requirements the Australian Government has," Mr Beattie said.
"We encourage people to get a visa, come here and compete, stay a little while after, spend some money in this country and then go home.
"Border security is aware of it — these people are still within their visa — but at the end of the day I would encourage them to return to the village.
"We anticipated this happening — there's a system in place to deal with it and we'll get on with organising the event."
Deputy Premier Jackie Trad said she hoped the athletes do not try to overstay their visas.
"Clearly it's not a great thing to have happened," she said.
"I just hope they're out enjoying the delights of Queensland for a little while and will do the right thing and come back to the Games and go home appropriately."